Where have I been? What has happened to me? To explain, I might just as well begin with a particularly terrible bowl of Spaghetti and Meatballs in Akron, Ohio.
It was my very first meal of a tour with Joshua Bell, a violinist you may have heard of. Now, a pianist has a function, which is to play too loud while waving his/her head around expressively.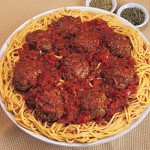 And pasta has a function too: it's supposed to serve as a canvas or frame for delicious sauce. But this flaccid frame simply refused to cooperate. It resented sharing its space. Nothing would stick to it. Therefore the sauce (which was not red, but a surly pinkish-brown) oozed forlornly about the corners of the takeout container, commenting wryly on the whiteness of its companion, as if to say "look, just look at what I have to deal with!," and refusing to fulfill its remaining function, i.e., taste. Liquid flavorless recalcitrance! And the meatballs. As you gauged their mealiness in your mouth you felt you could count, like rings on trees, the number of times they had been frozen and irradiated.
Three different ingredients–sauce, pasta, meatball–and three different functions… How crucial that they act upon each other, how crucial that they profoundly communicate with one another!
I meditated painfully on this Threeness of Spaghetti and Meatballs in the cinderblock cage of my dressing room. It seemed a woeful injustice to begin the tour with such a terrible meal, and I'll admit, I was still dwelling on it as I walked onstage, even as I sat down at the piano. I belched quietly into the pre-concert expectant silence … obviously, the three elements had not properly merged even in the accommodating cavern of my stomach. And so it happened–such is the power of fate!–that my mind was darkly attuned to failures of threesomes as Joshua and I began to play (for the first time) a work in … you guessed it … three profoundly interacting parts.
That no-name violinist played a melody:



Audio clip: Adobe Flash Player (version 9 or above) is required to play this audio clip. Download the latest version here. You also need to have JavaScript enabled in your browser.
And I played two separate streams of accompaniment, one in the right hand, one in the left:

Audio clip: Adobe Flash Player (version 9 or above) is required to play this audio clip. Download the latest version here. You also need to have JavaScript enabled in your browser.
The right hand is a river of sixteenth notes, a middleman … filling in the chord, "saucing" the melody. While the left hand, a slower stream of eighth notes, reveals a starchy bass-line. I couldn't decide at the moment if the melody was the meatball; anyway, it didn't seem central to my interpretation.
What defines the melody is partly the rocking, halting rhythm of the Siciliano: long and short notes in alternation. Also: the melody has a tendency to stop and start, to pause on pivot notes, before moving on. The two accompanying ingredients are utterly different: they do not halt or alternate; they are inexorable, they are continuous. Playing there onstage, in my peculiar food-furious state, I felt this as a kind of culinary contrast: the intermittent, impulsive melody set in relief against the knowing stream of harmony, like two different "philosophical flavors."
There is no reason to mix pasta with sauce that won't cling to it: it's a category error, a basic mistake. There is (similarly) no reason to make melodies with arbitrary bass-lines; I mean, why write (tonal) music if the relation between your melody and your bass is going to be uninteresting? A lot of composers write music where the bass-lines ooze sorrowfully around the corners of their containers, looking reproachfully at the melody. A crucial element in musical composition is to create between these voices a clinging of some kind, some reluctance to let go, some salivation, some moment that lingers in the mouth.
The clinging of the melody to the bass is astoundingly beautiful in this piece (Bach BWV 1017). The melody is built more or less on a skeleton of chords …

Audio clip: Adobe Flash Player (version 9 or above) is required to play this audio clip. Download the latest version here. You also need to have JavaScript enabled in your browser.
… It "likes" to arpeggiate through chords. But the bass has an opposed tendency: it wants to descend by step, in a long line, through the C minor scale …

Audio clip: Adobe Flash Player (version 9 or above) is required to play this audio clip. Download the latest version here. You also need to have JavaScript enabled in your browser.
This process–chords versus scales–is set in motion from the very beginning:
Audio clip: Adobe Flash Player (version 9 or above) is required to play this audio clip. Download the latest version here. You also need to have JavaScript enabled in your browser.
The melody outlines the chord of C minor, but even by the second beat the bass has moved on to B-flat. Superimpose B-flat on a C minor chord, and you get, of course: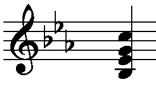 Audio clip: Adobe Flash Player (version 9 or above) is required to play this audio clip. Download the latest version here. You also need to have JavaScript enabled in your browser.
A wonderful chord, briefly glimpsed. This sonority, where a chord is "infected" with the next lower root, is (for me, for me!) the secret soul of this movement. Many of the chords in this Largo are haunted by this restlessness of their roots–while the melody clings to the past, the bass moves on. The resulting sevenths pop up throughout, dissonant beauties of passing. They keep appearing, persistently, but always briefly! They owe their existence to motion, to the tendency of the bass to descend, and therefore they don't linger.
Bach, as chef, understands that if you take a melody tasting of triads and put it on top of a bass that descends linearly you get these particularly delicious sonorities. This is the reason he has put these ingredients together: to wring these beauties out of them. If you fail to taste them while you play, it's your loss (and of course the audience's).
I will give you a favorite example. At one point the violin and keyboard decide they are going to cadence together on E-flat major …

Audio clip: Adobe Flash Player (version 9 or above) is required to play this audio clip. Download the latest version here. You also need to have JavaScript enabled in your browser.
… but it only lasts for one half of a measure, for one beat. The accompaniment immediately moves on: again, the bass has a thing for moving. The violin's still playing E-flat, holding onto it, optimistically or stubbornly. The bass moves down to D: and so the keyboard plays the dominant of C minor against E-flat: a wonderful, grinding dissonance. [When people say they can't stand "dissonant music," of course you can tell them they're idiots, they actually LOVE dissonant music, because without dissonance Bach (for example) would have nothing to say whatsoever.]
At the beginning of the measure, all three parts are in beautiful E-flat major. By the downbeat of the next measure, the E-flat has been "re-thought" as a part of C minor. But I like the beat in-between: when the E-flat doesn't know yet that it has been rethought. Where the melody's and harmony's tendencies clash, where the parts diverge, you get a kind of blurred double image of past and future. If you agree with me that Bach is a particularly profound essayist in the nature of time, you might agree with this leap of assocation: that dissonant beat is the present. It is neither here nor there. In its in-between-ness, it is the most beautiful, tastable moment of all. Why is it always the moment you want to hold onto, that is passing by?
That's why it sometimes seems to me that music theory is one of the most despicable disciplines there is, because you'd probably label the bass of that magical chord a "passing tone," and once you've labeled it a passing tone it's a bit deflating … doink!, it goes in the bin with all the other passing tones. Somewhat like passing through Trenton on your way to Philadelphia: unremarkable. In the same way, once you call something Spaghetti and Meatballs, it doesn't necessarily follow that you've understood anything about pasta, or that you should serve it to paying customers, or why a pianist might eat such a ridiculous thing before a concert, or any of the related questions that might come up. But Bach had that way of using passing tones so that you could meditate on the passing-ness of things, what it is to pass, to move on, to leave beauties behind … of labeling the labels with meaning, breathing life back into the most basic, even the most unassuming, words.
Does this explain why I haven't been blogging?