It would be silly of me, I suppose, not to link to today's New York Times Sunday Book Review…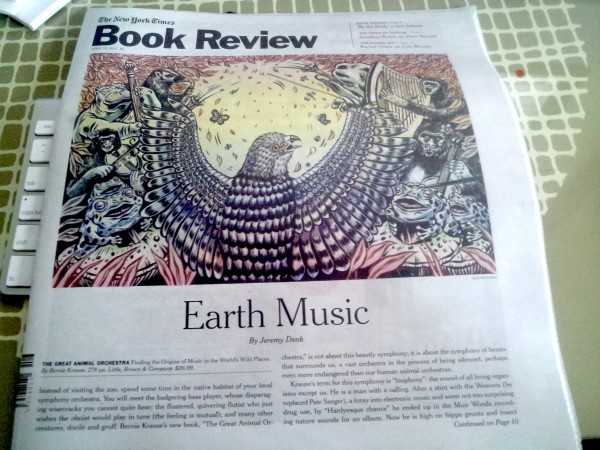 On top of the terror of becoming a "reviewer," it was scary and depressing to see the little bio saying "Jeremy Denk is the author of Think Denk." The word "author" threw me, I guess, like the the word "adult"—when does a blogger become an author? (A pointless question for our time!) Second of all, if an author, I've been such a neglectful, slothful one.
But for a sloth, I've been slightly busy behind the scenes.
In case you haven't seen them, I wrote three pieces for NPR Music on the Goldberg Variations:
Why I Hate the Goldbergs
Hannibal Lecter's Lessons on Bach
This is Your Brain on the Goldbergs
… they were very naughty, especially the first one. Some people in the comments didn't seem to notice that I really do like the Goldbergs, very much. There is a projected fourth essay which NPR is still waiting for (heh), in which I sum up Bach's relationship to time, the way variations as a genre are a machine or medium for the understanding of time, the way Beethoven understood this and how he co-opted the Goldberg paradigm in his final triumvirate of Sonatas, how the infinite is always weirdly a theme in pieces about time, with commentary interspersed on why I feel like such a poser shopping at Whole Foods.
This essay has not been completed, may never be completed, due to the dastardly arrival of spring. Spring! Working on Brahms, Ligeti, Liszt, whatever, I just don't know what to do with my happiness, and I'm composing passionate to do lists that will crumble into dust, and I began a bizarre, rambling piece in my pre-blog Moleskine (a desperate hideout for yearning clauses), a piece about three instances where I met wonderful people and talked with them for hours and then ended up somehow without anything to say but somehow it seemed something burningly had to be said and as a last recourse we ended up listening to recordings, or yelling books at each other at 3 am. This is another Ridiculous Piece I would love to write, now that I'm an "author," about these three fateful meetings, and in true spring fashion it would mostly be about death, and hopeless incurable things, and things that really cannot be published, not on a family blog.