I set forth into the sunny morning with purpose. I am (after all) an Artist in Residence at the Gardner Museum. My hotel is slightly too posh, kind of annoying yuppie old-school. The room keys are brass, huge, pocket-consuming. A man in hat and uniform stands by the elevators; he says good morning to my back as I walk out the door. I don't have time for him. I am thinking of a thousand forgotten tasks, failings, instances of non-adulthood, and I am thinking a horrible thought: being an artist can't forgive everything.
To exit this loop of artistic self-recrimination, I remind myself: Richard Wagner had a fetish for silk underwear, for pink women's panties. For God's sake, he sent Nietzsche out to buy the underwear for him! I can't believe this is true, that it's not something I just dreamed. I could totally have dreamed Nietzsche in Victoria's Secret buying silk panties for Wagner—before meeting Schopenhauer at Cinnabon. How come this didn't come up in Music History 101? If I had a class of smiling innocent undergraduates, all beamingly in love with Classical Music, that's the very first thing I would do in the very first class: I would lay out the whole sordid story, then play them some of those hyper-masculine funeral marches and rousing choruses while holding up a pair of pink panties.
I start walking down Mass Ave. My left hand falls to my left pocket—nothing there but leg. Two days ago, my phone entered an insoluble loop. It becomes aware that it has been plugged in, but it cannot make anything of this circumstance. It will not charge, or evolve; it has only useless knowledge that power is coursing through it, reflected in a icon for thinking, then a ghostly battery, then darkness, then screen scramble. Repeat cycle. Uncanny: I was an atheist until my phone began to understand me; now I have the disturbing sense that God may actually exist, that he has plans for me.
Phoneless, I cannot Google pretentious coffeeshops. So I rush immediately into Starbucks, as if it were the only coffee for miles. I sit with my Very Berry coffee cake and do the Ken Ken in the New York Times. But how can an artist in residence do Ken Ken and eat cake in a heartless coffee chain? I flee. I head down Newbury. Only twenty seconds further is a bookshop cafe—salvation! I'm burning to read Kafka's Amerika. I run back to the shelves, but it is not there.
Meanwhile, in the cafe area, a woman alone in a booth is complaining. No one has taken her order. The black-shirted waiter is unperturbed. "Did you read the sign at the front?," he asks. His question mark has no meaning, it is just protocol. He cares not whether she read it, or no. "Please wait to be seated, it says," he says to her. All day people wander into this bookshop without reading the single sentence at the door. It is not her sins but humanity's he is enumerating, and he isn't going to go all fire-and-brimstone on her, no no, he isn't even conceding he's upset, except to express through his tone the utter lack of faith he has in her as a customer. She defends herself, claiming she'd told the guy at the front. "He probably thought you were waiting for someone," the waiter says, with no hope that the customer could ever be in the right. "I'll try to get over to you and take your order," he says, turning away.
This puts me in an awkward position, my butt almost on the cushion, a criminal but for some small resistance to gravity. He approaches.
I decide to take an aggressive stance, difficult to do half-seated.
"I'm not entirely sure what the procedures are here," I said, putting all the pent-up stress of the last week of my life into the sarcasm of the key word. But he'd seen sarcasm before. Against my implication that he was an anal Fascist he was unmoved, a perfect brick wall. "The sign at the front reads please wait to be seated." Pause. "However, at the bar it is first come, first served." Two other people were at the bar, leaving twenty empty seats. He wanted me to know a vast structure of irrelevant rules existed.
It came time to order. "Huevos rancheros," I say, "But can I sub something in for the plaintains"? "No, that's not possible," he says, with no hint of apology. "They're very picky back there." Back where? I didn't need Amerika; this cafe was becoming more Kafkesque by the moment, with a shadowy they behind the scenes. I try to throw in a curveball, something Kafka could not have foreseen: "well, how about the southwestern burrito?" A withering look contorted the waiter's face. No, not the bemused grimace suggesting it was not their best dish. It was infinitely more than that. It was "how could you not KNOW that our southwestern burrito is terrible?" There was moral judgment of my quick abandonment of the rancheros; I was a fickle customer, jumping ship over an unwanted side. Life, he implied, sometimes came with sides you didn't want. Like when you have suddenly the career you've always wanted but it comes with levels of stress you never quite expected, and that you don't know how to tame.
The gentleman to my left asks for his check. The waiter stops what he's doing, and instead of responding, stares into space for ten seconds. The man grows uncomfortable. Finally the waiter says, in a tone of absolute weariness and impossibility:
"I have absolutely no idea how I would go about doing that right now."
The customer laughs nervously, waiting for an explanation. Eventually the customer blurts "well I only ask because I have to get to work" … as if he had to justify himself, apologize. The waiter glowers. My mind reels in this world of reverse responsibility. No progress towards a check. At last a manager emerges from the back, and through his intervention we learn the missing fact: the computer system is down. He is a heterosexual, slightly shorter version of our waiter. They are astoundingly similar. But one radiates pure artistic snippiness, the other boring efficiency.
"I'll pay cash," the customer says desperately. The manager claims it should be only five minutes till the computer restarts, but the man wants to make his escape. I don't blame him; the woman in the booth has vanished long since.
All my worries about life are beginning to fade away. I am entranced. The waiter must now create a receipt by hand. He searches out a notepad, rustles around for a pen. He makes a wonderful show of consulting the menu to see what everything costs, flipping the pages, holding his face close to the pages as if made nearsighted by inconvenience. With what delicious sense of injury, with what spectacle of martyrdom he implies that numerical concerns are below him! My head gets hot, flushed with coffee and appreciation. I remove my Cookie Monster hat. The waiter gazes for a good three seconds at my ungodly bed-and-hat-head, to be filed among so many other disappointments.
The rancheros arrive. They are delicious, the tortillas crispy, the sauce tart and hot, the plantains decadently burning the roof of my mouth as I wolf them down. I begin to realize it may be a long time before I decide to replace my phone. The emptiness in my left pocket is pleasant, a liberating death. I recollect all the stupid text messages I have sent over the last six months, all their emptiness and all their striving to be what they are not. I have a real doozy of an Artist in Residence notion, to make a poem or a piece or some absurd pretentious installation out of my least favorite text messages. I will write one of the world's most annoying blurbs about my installation. Analyzing them, in all their half-assed failure to communicate. All the ways in which I have allowed technology to scatter my forces, to email myself to a million recipients and get nothing back.
These thoughts go on and on as I eat, maybe twenty or thirty minutes. The waiter comes by and refills my coffee. At last I too require the check. The computer is of course still dead.
"The computer's down, but it'll be back on in five minutes," the waiter says in his best heterosexual accent, his eyes rolling leftwards towards the manager's office. An iceberg of sarcasm over an unfathomable ocean of employee resentment. If I'm not entirely mistaken, he's warming towards me. He makes my receipt by hand.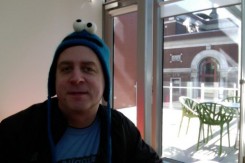 I leave him a twenty, ask him to just give me two dollars back. I gather Cookie Monster, my bag, my thoughts, my jittery soul, I make to leave this place.
"Do you need your receipt?" he asks as I'm leaving. I shake my head. He grabs it, stuffs it in his apron. I look at him quizzically—why does he want my old receipt?
"…I want to use the paper for the next one."
I try a wild gambit. "Oh, too bad. I thought you wanted a memento of our time together."
He is manipulating limes, glasses, forks behind the counter, doing a million waiter things all of which seem to be unnecessary. He does not look up. He says "you can tell yourself that if it will help you get through the day." I am silently giving him the Bitchiest Gay Man Of All Time Award, smiling; I walk outside with a spring in my step; this Artist in Residence is in love.