Recently, I came across an essay entitled Whose Brahms Is It Anyway? Puzzling: I assumed Brahms, that most organic of composers, had been purchased by Monsanto long ago.
This essay has an alarming thesis: that the Brahms B-flat Concerto has been getting longer. The author (Walter Frisch) does not rely upon anecdotal evidence; he supplies a carefully researched graph which would seem to place the issue beyond a doubt: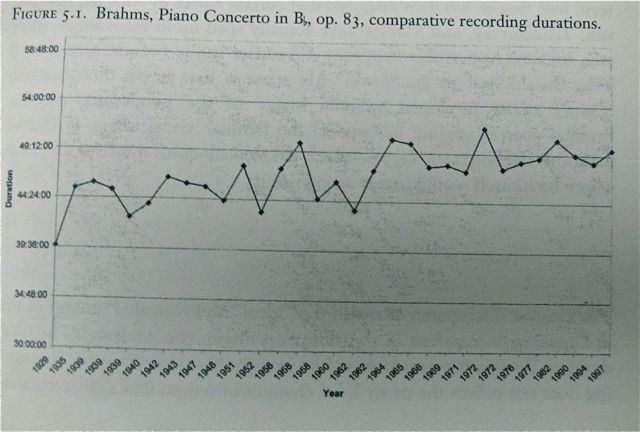 What could this graph mean? I phoned up a reliable cross-section of experts: arts administrators, conductors, concert-hall caterers, etc. Conferring with them, I came up with the following rough calculations.
For each 5 minutes of length added to Brahms, Op. 83, you can expect:
— intermission restroom lines will grow by 8-10%;
— coughing between movements will grow by 25%;
— coughing during most beautiful part of slow movement explodes by a staggering 43%;
— hairlines of male audience members will recede by .0000003%, but if you figure in compound interest, this could really add up;
Surely there are other effects we cannot yet envision. And we have to assume, in the absence of contrary evidence, that these problems are ongoing. The following graph shows the slowing of the concerto to date, as documented by Frisch and his crack team of CD collectors around the world, followed by a projection into the future: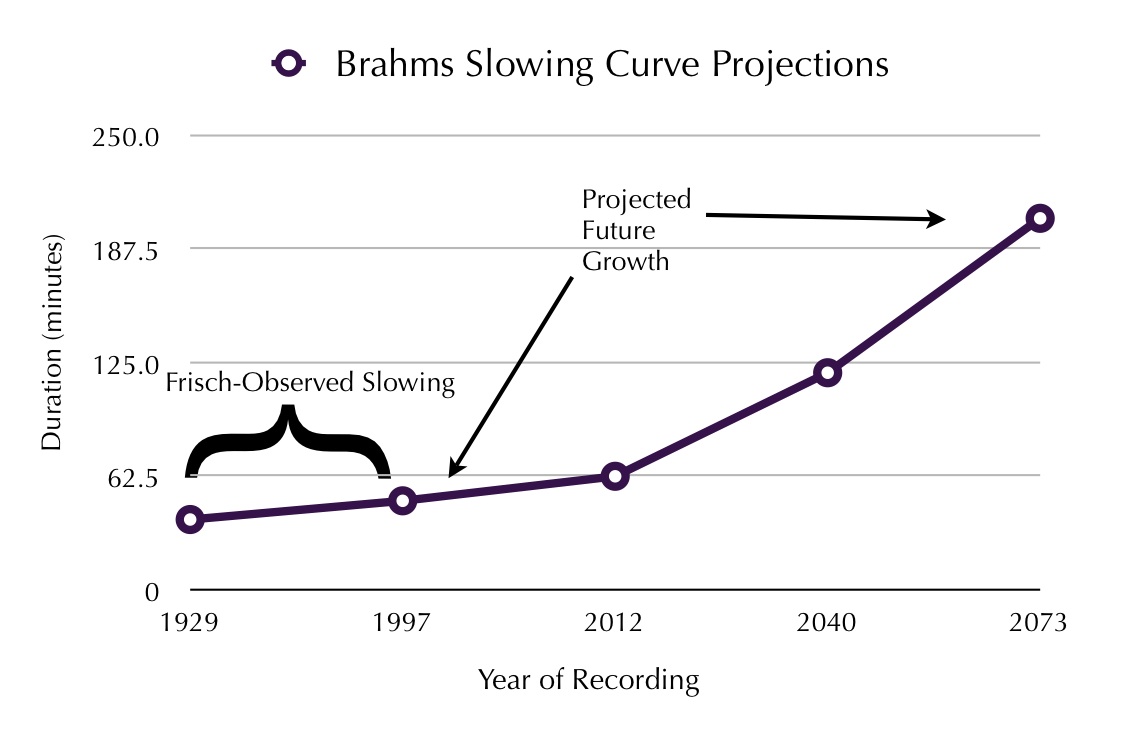 As you can see, the model suggests that a recording of Brahms Op. 83 made in 2072 would last 3 hours and 25 minutes! In minutes adjusted for inflation, that is 142% longer than the most tedious performance of the Goldberg Variations to date.
Here is a sample passage from Brahms Op. 83 as it might be recorded in 2043, as rendered by a hired stunt artist:
Audio clip: Adobe Flash Player (version 9 or above) is required to play this audio clip. Download the latest version here. You also need to have JavaScript enabled in your browser.
Astounding. As you can hear, this could cause untold suffering; our children's children would bear the brunt … I needed no more convincing. I immediately convened a conference in Copenhagen, but reconsidered; Amsterdam might be more Andante-friendly. I applied for government grants to pay for my accommodations and expenses. Obviously, also, some lobbyists would be required to argue for the interests of faster Brahms in Congress.
Just as I was tucking into my room service at the Four Seasons Amsterdam, I received a rather disturbing phone call. Apparently someone hacked into the email server at the Music Department of Columbia University, and forwarded thousands of emails to the Marlboro Music Festival, which historically has had an interest in slowing the pace of Brahms. With their vast financial resources, they hired a team of interns and unearthed the following:
FROM: Walter Frisch <xxxxxx@columbia.edu>
TO: Richard Taruskin <xxx@berkeley.edu>
SUBJECT: Brahms Op. 83

I think I've just completed Robert's (Mann) trick of adding in the real tempos to each series for the last 20 years (from 1981 onward) and from 1961 for Maazel's to hide the decline.
and…
FROM: Lawrence Kramer <xxx@fordham.edu>
TO: Walter Frisch <xxxxxx@columbia.edu>
SUBJECT: Oy, FOIA

I do now wish I'd never sent them the data after Hepokoski's FOIA request. Uncertainty in turntable calibrations adjusted, corrections made and I think it's solid. But there is a relatively small number of people who don't or won't 'get it' … Meanwhile, who let Taruskin rewrite the whole History of Western Music? I mean, at least it wasn't Susan McClary.
Between the backbiting and the tempo uncertainties … well, before long there was a full-blown media storm, a battle between slowing deniers and alarmists. Sarah Palin addressed this BrahmsGate (for so it was now called) in an Op-Ed in the Washington Post:
The BrahmsGate emails reveal what the American public has long suspected, that the slowing of Brahms Op. 83 is not nearly as certain as some elite musicologists have banded together to suggest. If those musicologists think they can attack our way of life by making our Andantes flow more freely, they have no idea the world of hurt they're in for.

Even if Brahms is slowing, who's to say it's caused by human activities?

Call me crazy, but I'm old enough to remember that in the 70s, various musicologists were warning us that Brahms Op. 83 was actually getting faster. It's possible that Brahms Op. 83 is slowing because of cyclical, natural variations in tempo. For instance, variations in sunspot activity …

In the final analysis, there are so many better ways to deal with this slowing trend, aside from the drastic, unreasonable solution of playing the piece faster.
I was still sure that Brahms was slowing–after all, there was the graph!–but began to have second thoughts as to the cause. Although the presence of a thoughtful, nuanced expert like Sarah Palin seemed to discourage further inquiry, perhaps I could humbly contribute something to the scientific literature. To create an objective, controlled experiment I decided to deal with an unrelated work: Beethoven's First Piano Concerto. This would free me from any emotional baggage or bias as relating to Brahms Op. 83, and yet would speak to the reliability of durational data, from which a series of conferences might more reasonably address the question of what length really is, how it might be measured, and eventually set a groundwork for understanding how long Brahms Op. 83 should be.
The premise of my experiment was to measure my perceived desired tempo (PDT) for the opening of Beethoven First Piano Concerto at various times of day, and under the influence of certain key circumstances.
first attempt: quarter = 144 (midday, 3 hours after coffee, just before lunch)
We could call this a "baseline" tempo. Addicted to this data gathering (this science stuff is fun!) I began sampling my own PDT's wildly:
before coffee: quarter = 138
after coffee: quarter = 160
before sex or equivalent* quarter = 154
after sex or equivalent* quarter = 126
after one beer quarter = 148
after two beers quarter = 122-164
after three beers (unmeasurable data)
after watching an episode of Real Housewives of Orange County quarter = 232
after shopping at Fairway quarter = 187
(* for instance, a really good muffin)
A graph of this data proved elusive, and inconclusive; there are just too many factors at play!
And now it became clear to me, that tempo is more dangerous than an illusion, it is a kind of myth promulgated by all sorts of fascist types in order to destroy the natural and beautiful cycles of PDT that are native to the human freedom instinct. The next time a conductor asks me "why are you moving so much faster here?," referring to some passage X of a concerto, I will simply say "natural variability of sunspots," and when the conductor says "that's ridiculous," I will say "you can't prove to me it's NOT sunspots." I'm sure this will go over very well.