At least Hester Prynne got an "A" for her adultery. I've searched the alphabet up and down, and I can't find a letter to testify to my shame. Of all the sinful confessions of Think Denk, ranging from lonely Cheetos to promiscuous metaphors, this is the darkest and deepest. Here goes:
        Monday night, I went to see Twilight: New Moon. For the second time.
The first time, it was a rainy afternoon. It was the second of three Beethoven Concerto performances in Naples, Florida; the beach was a dismal grey ringed by reproachful mangroves; I couldn't bear to haunt my hotel room a moment longer, staring at the dumb mauve art. HBO was playing "The Making of Braveheart;" meanwhile, The Grand Piano Foyer, a floor below me, contained "Dinning [sic] Divas and their Darling Dogs" …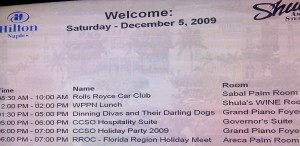 … and I had barely recovered from the Urology Specialist Holiday Party the night before. So you see, I had no choice, I had to flee the Hilton and its Grilled Chicken Caesars. A matter of life and death. A total vroom situation.
When I am driven by such desperation to The Movies, I try to selectively turn off my ears, at least the parts that feel pain when terrible music is happening. If only my new ear hair trimmer had such a function! As you can imagine, most of the music of Twilight is a spool of new age melancholy-lite with interchangeable aspartame chords and a spectacular disregard for monotony and cliché: the sort of thing you run across 12-year-old girls playing, to express themselves, on upright pianos in junior high chorus rooms after the last tater tots have been shoved down the last pimply gullet of the last smug bully before the last bus creaks out of the parking lot, sending wheezes of diesel sadness into the dusk as yet another chalky day of teaching scrawls to an end. Here's an example:
Audio clip: Adobe Flash Player (version 9 or above) is required to play this audio clip. Download the latest version here. You also need to have JavaScript enabled in your browser.
… you get the idea. I was just settling in with my movie nachos, just getting used to this aural upholstery–anything that does not kill you, etc. etc.–when (suddenly!) a few notes reminded me that there might be a better world. Bella gets knocked against a wall, her arm's bleeding …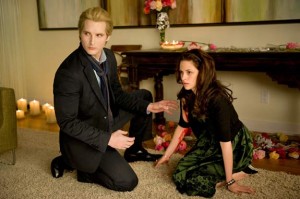 … and in a flash Dr. Cullen–a vampire who has virtuously pulled back his fake hair and steeled himself to resist his blood-urge–dismisses his weaker, ravenous vampire relatives, and prepares to stitch up her gaping wound. As he stitches, we hear:
Audio clip: Adobe Flash Player (version 9 or above) is required to play this audio clip. Download the latest version here. You also need to have JavaScript enabled in your browser.
This was no nacho hallucination! There really WAS a Schubert song lurking in this teen vampire romance … and not just Joe Schubert Song, but a setting of one of the greatest Goethe poems. But why this song? And why Schubert? My mind immediately and shamelessly ran after musicological ramifications: "Schubert is sucking at the neck of the subdominant, to demonstrate vis-a-vis the fangs of his modal mixture the inadequacy of conventional polarities of dominance" … (Susan McClary, eat your heart out!) Though I dismissed the notion of a hidden musicological agenda I suddenly wondered how many vampires take refuge in the musicology faculties of our nation's universities.
This was one of these moments where Popular Culture decides for a capricious instant that Hundreds Of Years Of The Western Canon are temporarily useful for appropriation; it does classical music a huge favor by Noticing It. Lovers of classical music are supposed to beam and pant like a petted dog, grateful for any and all attention. Wag wag, woof woof, good boy, go play in your cute tuxedo now! Classical music often serves an iconic, representative, dubiously honorable purpose in popular film, and this instance of classical quotation–besides reminding me what a steaming load of crapola I had been listening to previously–reminded me very much of the famous scene in The Silence of the Lambs, where Hannibal Lecter brutally murders and partly eats his two guards to the strains of the Goldberg Variations.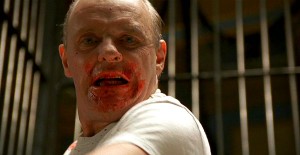 In both these scenes, classical music becomes an emblem of distance and detachment. Cullen is looking directly upon blood without giving in to his hunger; he is practicing Zen-like separation from desire. Lecter has a very different detachment, the detachment required to kill perfectly, ruthlessly, without regret or remorse; his is the detachment, the disconnect, the absence of "normal" emotion which marks sociopathy.
In both scenes, the music is ironic. It's effective in a way that horrific or disturbing, i.e. "appropriate" music would not be. Its meaning lies in its otherness … While Lecter commits one of man's darkest taboos (cannibalism), behind him rings the decorum and organization of Bach, with its peerless canons and schemes and rules; the Goldbergs whisper to our ears all the connotation and comfort of human Enlightenment, while the Dark Ages scream at our eyes from the screen. Cullen is stitching a raw wound; he fills a bowl full of blood … The camera lingers on both, in the way we imagine Cullen's eyes unconsciously might; meanwhile the song proceeds in uncanny calm, a calm which feels strange against our sense of a repressed murderousness. The calm is a classical music calm, an alien calm, it evokes the price and pressure of Cullen's self-repression. I have noticed often that the forces of Hollywood cannot use classical music to express "normal" emotions, but only extremes, only things that must be seen weirdly, in reverse.
In both scenes, blood. Both Lecter and Cullen traffic in blood, and their bloodiest scenes bleed classical music. Yes, we can say, the director is suggesting that classical music is "beauty" against which the horrors of bloodlust are seen more starkly. But if the music is supposed to be the opposite of the bloody scene, isn't the implication somehow that the beauty of classical music is "bloodless"? Lecter is a soulless monster, and he loves Bach; Cullen is a soulless vampire, who uses Schubert to calm himself while he repairs a wound. Always soulless; always other; always anachronistic; classical music is the preference of monsters. I can see how the age of the music connects to the immortality of the vampire, I can see how the Bach connects to Lecter's genius, but why must classical music be the language of monsters, of the fringe?
Schubert's not distant, not alien, not detached, he's full-blooded and alive, he's home for me, he's the emotional trailer park where I live, don't you get that?, don't you hear it's so beautiful?, so much more intensely felt than this movie?, I wanted to scream all through the room, to the mainly 50-something women who had come alone in their Lexuses through the Florida rain to the mildewed and neglected theatre. No, no, so beautiful, I thought as Schubert's echoes dopplered away and we returned to the morose mediocrity of the main score. I was like Bella abandoned by Edward, soundtrack bereft.
The movie proceeded like so many–a series of proppings. Yes, there's no real plot structure but OK in the weak moments prop it up with effects. When the effects don't work OK in the weak moments prop it up with shirtless men. The shirtless men cannot remotely act but OK in the weak moments prop it up with music, or blood. I felt a certain pity for each sadly inadequate piece of the puzzle. In fact, there could be no simpler, greater rebuke to this film than the Goethe text for the Schubert song:
Über allen Gipfeln
Ist Ruh,
In allen Wipfeln
Spürest du
Kaum einen Hauch;
Die Vögelein schweigen im Walde.
Warte nur, balde
Ruhest du auch.
[Over all the hilltops
there is rest,
In all the treetops
you hear
hardly a breath;
The birds are silent in the forest.
Only wait, soon
you too shall rest.]
A haiku house without seams, strong beyond strong. In the music of these words, there is nothing to be propped … each rhyme coolly and clearly clicks into the joints of the meaning. I'm shivering here in my kitchen just reading through it, and not just because the window's open. You pity no word in it, no matter how humble, each simple word lives. At its foundation we find the strongest word, an untranslatable word, "Ruh," meaning rest or calm or quiet or silence or peace. First we see "Ruh" spread over the hilltops … it's a landscape-word. At the end "Ruh" has become a verb ("ruhest du auch"), and in this paradoxical transformation (rest acts!) the word itself becomes a poem.
A poem that appears to be painting a landscape for us turns on its heels, turns on us, and intimates our death. It does this through one other very strong word, the last word, the pillar at the other end of the arch: "auch." How is it possible that a simple notion–you too–becomes so charged? (Don't even get me started on how "auch" rhymes with "Hauch," breath.) But it is, of course: all our lives we are dealing with the consequences of you too. Yes life is a story of I'm me yielding to you too, and this hint of death rings against the restfulness of the scene; the two notions are in perfect, compensatory conflict–a conflict which is from another perspective just a total, complex understanding of a single thing. Death and the peaceful landscape are hung, in suspension, against each other. The birds are in the middle of the arch, refusing to sing.
The only things in the movie that seemed as well-constructed as this poem were Taylor Lautner's abs: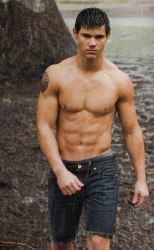 … and these elicited an appreciative "Damn!" from more than one corner of the theatre. (Schubert got no damns. Nor Goethe.) Each pair of muscles like a rhyme. The next day, after hanging up with my new personal trainer, I wondered: why are poems better than abs? Between lateral crunches, I mused: aren't abs just poems of the stomach? But it seemed to me great poems last longer than abs. And they generally don't require trips to the gym. As I puréed my second protein shake, it struck me, I should phone some poets, do they have phones? Did Goethe go to the gym? Maybe during his Italian Journeys? So many imponderables! But maybe there's only one truly unanswerable question: why did I go back for a second viewing?
It was for the Schubert, I swear.