My friend Cory said he heard a tiny scrap of laughter out his window the other night, and it made him want to cry, thinking of all the pleasures happening elsewhere. The last days of Summer should be the last sweet drops of a long mirth. Your soul should be like a Gatsby lawn party. Yes, hold on to your laughs; they're all sweaty and slippery; they've been on ice all summer, trying to keep cool, trying not to become sighs.
Things that will never be the same, and summer, and death, and mirth, and flings long past: all one big complex of crap. Go ahead and try to sum it all up. If I was working at the Whitney staging a retrospective of my summer past, the Summer of No Blogging (thanks for pointing that out, everyone that I know!), it would mainly consist of a performance art piece entitled Practicing Maniac. Various rooms: always the same maniac. Occasionally an adorable dog sat on this maniac's lap, expressing appreciation through furtive licks.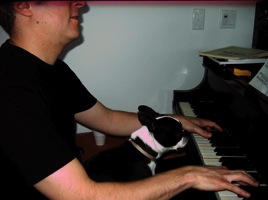 Many hours died, one after another, sacrificed at the altar of a few minutes of music; now all that time, all that existence and memory has been transmuted into increased capacity for playing those few minutes: it better damned well sound good. But, no pressure!
Suppose you're just practicing innocently along, telling yourself "hey I'm practicing" and also "I'm such a good person for not surfing the internet," etc. etc., when the composer hits you with this: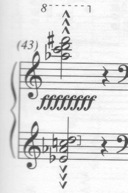 In case you don't know, three f's is the loudest dynamic you would "normally" come across. Ligeti writes eight, which translates to a wonderfully silly Italian sussuration: Fortissississississississimo. My initial reaction to this is: the composer is a jerk. But I often have this reaction. Resenting the composer (usually dead, but not always!) is a fun practice tactic, something productive I've been able to pass on to my students.
How to interpret eight fortes? I think maybe I should hurl my whole body at the piano as violently as possible and hope for the best. They would find my bloody corpse weeks later amid the moldy coffee cups, odiferous testament to my devotion to the composer's intent. How would 8 be different from 7? Both must be so searingly loud as to be painful, a distinction between degrees of agony: if 7 fortes is like being disemboweled by a wolf, then 8 is like being disemboweled by a bear.
Ridiculously, staggeringly loud is one brute brand of infinity, but the best infinities in Ligeti are infinities of thought. He starts with a principle, a procedure. The procedure proceeds. But at some point, preferably just at the birth of complacency, Ligeti accelerates or compresses, he turns the mental dial to eleven. The code destabilizes itself.
A good example: the sixth Etude, Automne a Varsovie. The principle is descending chromatic lines. At first there is only the one line, falling, falling:
Audio clip: Adobe Flash Player (version 9 or above) is required to play this audio clip. Download the latest version here. You also need to have JavaScript enabled in your browser.
But gradually other chromatic lines come in, at various other speeds. In this middlegame, the effect is just like that of many familiar Western musical masterpieces: a meditation on the beauty of various chromatic lines, intersecting, falling at different rates. These beauties are always elusive, because the lines are always passing on, but then (such is the cycle of things) new temporary beauties also always keep coming.
However, the urge of the piece is not beauty, but an ever-denser thicket of lines, crowding beauty out. Accumulation keeps threatening pleasure. The lines become insanely intertwined, and the Etude follows this logic or urge to its desperate, natural conclusion: the pianist rushes off the bottom edge of the keyboard, chromatically, as loud as possible, breaks off, as short as possible. The idea of the piece (the descending line) has fused into a white-hot singularity, something that can no longer be discretely played or thought, something infinitely forceful … after which nothing can be said, violent caesura, silence.

Now, this sort of thing happens in Ligeti so often that it becomes commonplace. He's intimate with infinity, comfortable with destruction; infinity's like the 7-11 he stops at on his way home from work, to pick up a Big Gulp.
One thing Ligeti's doing is challenging the pianist to ape a machine; he evokes the (seemingly) infinite calculations we are used to our PCs doing for us every day. Perversely, he wants to see us try to do them. But this machine desire is not heartless, or bloodless. Rather, it's a thrilling, terrifying, uncompromising ride towards where you won't be able to do it any more. (Aren't we all on one of those?) It's the life-affirming death-wish of the work.
The death of your typical tonal work (say, by Mozart) is a cadence. You have a movement, and if it starts in a key X, it will end with a cadence in key X. There's no bones about it; that's just how you close things off, say farewell; it's "the law." The cadence is a cage which defines and restrains so much of classical music. Ligeti's runs for infinity are so common that they assume the role of cadences. His way of achieving closure is to explode the premise of the piece (or allow the premise to destroy itself). Going berserk on idea X is the inevitable, natural conclusion of it; the parameters of a piece lie at the far end of an apocalypse, of the unthinkable.
What with Ligeti's freedom to go beserk, you might find yourself pitying poor finite Mozart.
For instance, one of the greatest Mozart slow movements (second movement of K 533) begins with a very finite, very simple measure: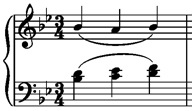 Audio clip: Adobe Flash Player (version 9 or above) is required to play this audio clip. Download the latest version here. You also need to have JavaScript enabled in your browser.
… nothing extraordinary, nothing more than lovely passing through B-flat major. It's almost an emblem of the limitations of Classical Slow Movements, you're already thinking, oh no, not another one of those pretty, precious things. But the second measure comes out of left field: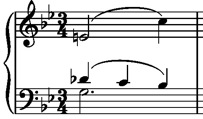 Audio clip: Adobe Flash Player (version 9 or above) is required to play this audio clip. Download the latest version here. You also need to have JavaScript enabled in your browser.
… a disjunction, two notes that do not belong, a couple of strange ugly leaps, cross-relations, a middle voice suddenly expressive and prominent where it had been filler. There is a lot to contemplate here, but not much time; immediately, the third section of the phrase resolves this "problem" away, as if nothing had happened:

Audio clip: Adobe Flash Player (version 9 or above) is required to play this audio clip. Download the latest version here. You also need to have JavaScript enabled in your browser.
But something HAS happened. And when the next phrase begins, we have a strange sudden distance between two notes in the right hand and an octave in the left: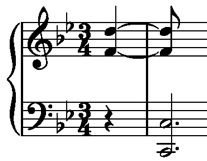 Audio clip: Adobe Flash Player (version 9 or above) is required to play this audio clip. Download the latest version here. You also need to have JavaScript enabled in your browser.
… I don't think you can separate this Weird Event from the previous Weird Event. Those weirdnesses are not coincidences, they're collaborators, pushing us away from the "normal" which was so clearly promised in the opening measure, sabotaging the cadences which surround them. Mozart's giving us two kinds of Weird. One is the infection of the major key with the minor: a kind of confusion, or ambivalence. The other is more technical perhaps, harder to explain: a kind of austere voicing in which the lines feel a bit too distant from each other, in which a sudden gap is felt. If you think of a nice lyrical texture as a number of voices filling each other out, like a ripe juicy fruit, depending on continuity, completeness, flesh passing to flesh … these gaps are like moments where some of the flesh of the fruit vanishes and some sort of diagram or skeleton appears behind it.
I (probably) wouldn't go into these first four measures so verbosely, if it weren't just the beginning of a long, harrowing process, the process of Mozart drawing connections between weirdnesses, allowing the weird to flourish. The minor keeps forcing its way into the major key (and vice versa), a process which reaches a spectacular climax here: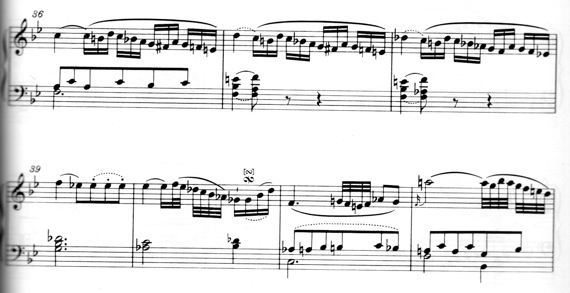 Audio clip: Adobe Flash Player (version 9 or above) is required to play this audio clip. Download the latest version here. You also need to have JavaScript enabled in your browser.
Mozart couldn't have crammed more major-minor ambiguity into this passage if he tried: in the context of the style, it's infinitely ambivalent. He only escapes from this thorny confusion of happy and sad through an extraordinary sudden gap, the melody leaping up a tenth to the major key: that is, one weird rescuing us from another.
In the middle of the movement, Mozart creates a climax of austerity (weirdness #2). He embarks on an endless, strange passage of sequences and dissonances, in which the ideal of the human voice disappears, we wander into a contrapuntal maze:

Audio clip: Adobe Flash Player (version 9 or above) is required to play this audio clip. Download the latest version here. You also need to have JavaScript enabled in your browser.
Mozart's slow movement is not that different from Ligeti's Automne a Varsovie! Its beauties contain destabilizing elements which spread, increase, threaten to take over. As you listen to this Andante, even for the nth time, those odd things are odd enough not to become familiar … like an unsettling face. Some angle of the face is never quite right, no matter how you try to organize it in your mind, and if you manage to get used to one crooked eye then everything else will seem askew.
All summer, in my maniacal practice sessions, I switched back and forth from Ligeti Etudes to Mozart 533: I kept putting Pandora back in the box, then letting Her out again. Ligeti does "scientific" infinity: he gestures at "actual" infinity by rushing off the top or bottom of the keyboard, or allowing voices to replicate themselves, or mimicking mathematical ideas, permutations, chaos theory, etc. etc. I found myself trying to identify infinity in Mozart, feeling strongly it was there. For many people, I imagine, the infinity of Mozart lies in his perfection, balance, symmetry, the whole shtick of the classical ideal. Not me.
Infinity is something you're in awe of, which seems impossible, but (like a horizon) is there all the time, defining your every step. I find infinity not in Mozart's continuity, but in his gaps, ambivalences, in glimpses, in the leap from one image or idea to another. If the cadence and the style is a box, a scaffolding, the four-bar phrases, the whole rigmarole of compositional framework … then music's a box for holding infinities, momentary infinities. How do they fit in there? They're hiding in the corners of phrases, behind barely touched-upon moments, which imply vast other things. Ligeti's infinity is overt; it hits you over the head and leaves you spinning. Infinity in Mozart is a golden fish swimming in the stream of the finite, impossible to catch, but you must try.