For many years, the greatest joy of Christmas was to wake up my parents with the worst Christmas music we could find. My brother and I would have a whispered powwow over the LP collection. We might choose Placido Domingo, for sheer tenor shamelessness, or maybe the organ-backed bombast of the Mormon Tabernacle Choir. The most deliciously despised choice was Barbara Streisand's multi-metric, coke-addled version of Jingle Bells. "Oh God not that again," we'd hear my mother moan from the bedroom, "Joe put on some coffee goddammit!"
But finally, an album arrived in the house that outdid all the others. My father worked for the Community Concerts series in Las Cruces, New Mexico, and one year the series featured a harpist named DeWayne Fulton. An album entitled "Season's Greetings from DeWayne Fulton" mysteriously appeared in the record pile the next Christmas, the bio on the jacket was irresistible:
DeWayne is currently being featured at THE WAREHOUSE RESTAURANT in Marina Del Rey, California (near the Los Angeles International Airport).
… and that was all. My brother and I ripped off the cellophane, put the album on at full volume, and got exactly the reaction we wanted. When my father emerged he wryly resurrected one of his most beloved expressions, one we hadn't heard for many years: "Fountains of toilet water."
Yes, Christmas Day was an occasion for gift-giving, for family togetherness, and mocking schlock. DeWayne became the perennial choice, the only choice, the absolute gold standard of cheese. Oh how we laughed, year after year, over DeWayne's bio, and all his plucked passion, while we unwrapped our fleeces from Lands End!
Fast forward to the present. This year I decided the holiday would be a nice, peaceful time not to travel anywhere and just to practice Ligeti Etudes and Bach. There is nothing more peaceful than playing Ligeti six hours a day, let me tell you; as a form of mental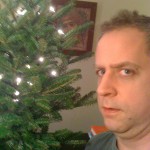 self-flagellation it is unequalled. Although I bought a small Christmas tree, plopped it atop the piano, decorated it with lights–well, somehow I had trouble summoning the Christmas spirit. Over Ligeti's enormous dissonant chords and clusters, quadruple forte, I started screaming holiday messages, like "Happy New Year!," "Best Wishes of the Season To You!," partly to scare the neighbors.
In this dire state, searching for holiday cheer, I found myself (what else) googling DeWayne Fulton. And wouldn't you know it, someone had uploaded the entire Seasons Greetings album! … I pressed download, and …
Audio clip: Adobe Flash Player (version 9 or above) is required to play this audio clip. Download the latest version here. You also need to have JavaScript enabled in your browser.
.. I got a lot more Christmas spirit than I bargained for. From the very first strum, I was transported to a Christmas in the mid to late 80's, between semesters at college. Sitting in my pajamas, sheltered by the tree and surrounded by presents, everything around me suggested I was still a child; meanwhile at college I'd been eagerly after adulthood, freeing myself (so I thought) from childlike vulnerabilities … The gap between child me and college me had been widening, imperceptibly, a crack in myself, and I felt suddenly dropped into it, this identity abyss. Who was I kidding, pretending to be a well-adjusted adult? Perhaps the suicidal melancholy of Christmas is partly this: a sudden strange perspective thrown around all your "normal," day-to-day life, a sudden lack of shelter. Just like when your relatives ask "You're kidding me, do you honestly make a living tickling those damn ivories?" and after telling them to screw off you realize how precarious the whole house of cards is. You tell them about your recording of Ives and they say "oh, I love Burl Ives."
In other words, these cheesy carols–much as I might laugh at them–were taking me down, down, down into a morass of unwanted emotion. I was turning into an Oprah segment. To distract myself, I clicked the back button on my browser, back to the original search results. There I found:
Los Angeles Times
MUSIC REVIEW
July 12, 1996

Harpist DeWayne Fulton once graced the rosters of the Berlin and Vienna philharmonics but had his longest tenure in the lounge of the Warehouse Restaurant in Marina del Rey.
… Ouch. I couldn't help but laugh at the zing of this opening salvo, but felt something flinch in my heart. The writer continued:
In a recital Thursday night at Cal State Long Beach, he combined the technique of a symphonic virtuoso with the artistic inclinations of a Lawrence Welk.
Agh. Before I knew it, I was suddenly totally overcome with sadness, at DeWayne's life story, at the concise cruelty of the opening of this review, at the cruelty of all humanity to humanity, the cruelty even of concision itself (meanwhile the carols were still rippling on, heartlessly), and I was so deeply ashamed of all the years I had laughed at DeWayne, all the terrible times I had used him for my own amusement, a harpist of considerable gifts who had played under Karajan in the Berlin Phil and somehow found himself for twenty years doing lounge harp in the environs of LAX. Further googling revealed that DeWayne died in 1997, mere months after this most terrible of all possible reviews. I imagined him reading this review with sadness, in his final moments. A great faucet of maudlin melancholy had been left open, and I guzzled from it.
This should be the point in the parable where, having reached a great crisis of doubt, I delve a bit further to find the True Meaning of Christmas.
Instead I found myself thinking about Corniness … a more fatal diagnosis, perhaps, than death itself. DeWayne had found himself on the wrong side of the corny/not corny divide; all his technique could not save him from his propensity for medleys and ripples, which led him unerringly from Berlin to Marina Del Rey, and earned him the cruelest review ever.
Now Christmas, too, seems to me a moment when corniness (partly a kind of naivete? a kind of artistic innocence? a complete disregard for restraint, taste?) raises its head and wages war for the soul of humanity. Christmas is a time of cheer, when we are all supposed to be cheerful: and cheer lends itself to corniness far more than gloom. Corniness is often a joy that has sat out too long, like a congealed skin on top of a soup. Congealed is the word: whatever elements keep the emotion fresh and moving are missing. Joy goes stale so quickly.
What's so terrifying about the corniness of Christmas is its all-pervasive nature, its inescapability. It oozes into all the most inappropriate, humdrum, places. I went to the bank to get a new ATM card, and there it was, deafening, the cheeriest corniest music imaginable. I said to the man in the cubicle, "this music must drive you crazy," and he said "we've been listening to it all month," and I said, "that would make me want to kill myself," and he said "that would be bad because I'm a young man with my whole life ahead of me" (which seemed to me a strange response). I must've struck a nerve; the guy in the next cubicle popped his head over the divider, and he said — get this — yeah basically we sort of want to kill ourselves, but can I interest you in some investments?
On the way back from the bank I picked up a chicken to roast. That should cure any melancholy those corny carols had roused! Yes, I thought, a good solid meal, potatoes and onions, and meanwhile I can get back to work, work, work, practicing Ligeti … Luckily, Ligeti is the least corny music imaginable. Severe, often savage, violent, excessive, sometimes beautiful–but never sentimental, mawkish. Ligeti was anti-Christmas, the perfect antidote to DeWayne.
I put the chicken in, 450 F, got to work. In moments the apartment was filling up with smoke. I couldn't open the window, outside was a howling blizzard. I was trapped, blazing oven inside and icy wind without. The music on the piano was "The Devil's Staircase." I added a couple fingerings, but the air was getting ever heavier, it was hot as hell in there, the smoke alarm beeped peevishly, fog was clouding the room, my brain, stifling …
At this moment, coughing through the fumes, I had a kind of weird, sudden Christmas vision. Snowflakes gave way to blurry blue lights, clouds upon clouds, and then I saw it, I saw it, DeWayne was in Heaven–which oddly resembled the Warehouse Restaurant–playing his harp. DeWayne was smiling down at me. I thought: DeWayne is happy, he forgives me for laughing at him all those years, for being such a cruel snobbish classical music bastard. I breathed a great sigh of relief. My heart swelled. But, in a moment, the vision expanded … I noticed God was sitting there next to DeWayne, and they weren't just smiling, they were both actually laughing, laughing hysterically. DeWayne was saying "Look at that poor sap, working like a dog down there, all alone, on that hideous music" and yes even God was laughing at me, he was wiping the tears out of his eyes, saying "what an idiot. Play me O Holy Night again, DeWayne. And–waiter–I'd like the Surf'n'Turf, medium rare."