NEW YORK, Mar. 19, 2009.
This week brought fresh revelations that the Boston Symphony, among many leading organizations, is heavily leveraged in atonal credit swaps, more than the most pessimistic theorists had previously forecast. "It's astounding," one board member remarked (who preferred to remain anonymous), "one half of the orchestra is this solid, unimpeachable Brahms and Beethoven business, you know, transactions we can all understand, but some renegade arts administrators were trading on this Triple-B rating to run a whole other side business, Schoenberg, Boulez, Messiaen, even Wuorinen … well, who knows how that stuff works?"
But the more investigators work to discover the extent of the problem, the more difficult it becomes to untangle profitable from unprofitable composers in the portfolio.
For instance, many had long considered Beethoven's 5th Symphony the ultimate blue-chip asset. But as the recession deepens, uncomfortable questions begin to be asked. How much tonic major did Beethoven really need to add on to the end of the Symphony and how did he plan to pay for it? "Clearly, Beethoven laid the ground for this C major investment in episodes of the slow movement, and thought of it as a diversifying counterweight to the tragic end of the business in the first movement," said Professor Nouriel Rossini of the Indiana University Theory Department, "but you have to understand the first movement also involves taking on a great deal of risk, and risk doesn't just vanish in a blaze of C major." Jon Stewart was more blunt, on The Daily Show, remarking "What the &*() was Beethoven thinking?!?"
Certain subprime melodies, for instance those of the Franck D minor Symphony, were taking a drastic hit in the downturn. Tim Geithner wryly observed that you can "Call it thematic transformation, risk sharing, creative accounting, whatever you like, but you still at the end of the day need a good tune."
But the trouble was spreading to melodies once thought prime, like the allegedly catchy Native American theme of the last movement of Dvorak's New World Symphony, which, with its low MPG rating, may or may not sustain large-scale development, or be up to the challenges of today's folkoric globalization. "The dangers of protectionism have never been so clearly demonstrated as in this 'New World' Symphony," said Igor Stravinsky on his groundbreaking financial news program, Right of Ka-Ching, in which poorly performing stocks are ritually slaughtered.
Caught in the middle of this musico-financial maelstrom are works with prime melodies but subprime development, the obvious example being the Tchaikovsky Piano Trio.
Who's to blame for escalating crisis? One after the other, critics, performers, conductors, and heavily coughing audience members are being hauled before Congress to become temporary scapegoats. Anne Midgette and Greg Sandow were star witnesses at yesterday's session, in which a visibly flustered Barney Frank wondered, "You warned us about this: why didn't we listen?" Then Anthony Tommasini took the stand, to increasingly hostile questioning. "You told us the Elgar Euphonium Concerto was a great work, and that John Q Euphonist's performance of it astounding," said the Kneejerk Congressman from Mississippi, "But look here," he said, brandishing a printout, "Elgar's stock is down 48% as of yesterday–what do you say to all the Symphony Orchestras that took your advice?" Mr. Tommasini, visibly abashed, replied "I can only say that I believed what I heard at the time, Congressman." The British musical press, still reeling from the Joyce Hatto scandal, refused to come in for testimony.
In what is now a familiar story, Lee Ellen Jo Public, of Loma Vista Boca Loca, AZ, found herself at a piano recital, where the pianist had just concluded the exposition of the G major Schubert Sonata. Having invested some 7 minutes of very serious listening, she felt she could not abandon the equity she had built up, even though the prospect of paying off the rest of the development and recapitulation was daunting. Fellow audience member Ronald McGrumpy was much less sympathetic. "After the first two bars, I said to myself, are you kidding me, what kind of sucker do you think I am, I'm not going to stick around and wait for Schubert to develop that. If she got caught upside down on this deal, it's her fault and her fault alone." Commenter Claude D., mainstay of the well-regarded financial blog Prelude to the Afternoon of a Fund, suggests many people are wondering whether to accept the damage to their listening credit and walk out. "Now, you see, Mozart's solution to this problem, which is introducing a new theme in the development, carries its own risks; but Mozart seems to think you should look at the crisis as an opportunity and innovate your way out." Asked whether taxpayers should bail out people who overextended themselves listening, Claude was noncommittal: "Pleasure is the law," he said, cryptically.
Perhaps the most reviled and ridiculed of this week's players is pianist and alleged blogger Jeremy Denk, who spent a week in the posh National H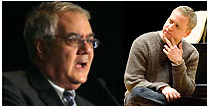 otel on Miami Beach, attending a conference on the American composer Charles Ives, often regarded as an eccentric investment. "First of all, how can you be a blogger if you never post?," demanded Nancy Pelosi, "and then, even while you knew about all Ives' toxic dissonances, you still accepted a bonus for your performances, and partied down on South Beach?" Mr. Denk tried to deflect blame onto James Sinclair, President of the Ives Society, and Michael Tilson Thomas, but the Congressional panel would have none of it, especially after it was revealed that Ives had ties to powerful insurance interests. The bill from room 413 was projected onto the wall of the congressional chamber, and the room charges were dissected, one by one. "$11.99 for jelly beans?" "That's how much they cost," Mr. Denk cagily replied. "I love Ives and I love jelly beans, so shoot me." He disappeared after the hearing, and it is rumored he is at the High Fructose Rehab Clinic, LifeSavers, under a pseudonym.