Airport, luggage, dawn. Desolate lanes of structure, sleeping planes like sorrowful birds, vans vrooming out of the darkness towards lonely kiosks. I boarded the bus. I had just settled myself in my seat, when a woman deposited two two-year-old boys opposite me: they swayed there, it seemed to me, like two jiggly jello molds. Aww. Casting occasional coos at them, the mother de-and-re-boarded many times, for toddler equipment … the kind of equipment you'd need a congressional appropriations bill for … carseats, strollers, baby duffels, tripods, a gross of Ziploc bags, do I see riot gear? I watched and watched. But while executing this cargo transfer, she found time to deposit with each boy a small stuffed dog, saying …
"…here's your puppy …"
and a small container, saying …
"…here's your sippy …"
The boys each seemed to magnetize around their puppies and sippies, and slowed their jiggling, like planets held in place by dual suns. I was instantly swept by waves of envy. Where's MY sippy, dammit? Where is my metaphorical mommy to give my sippy for playing my Schubert Sonata a few days ago? The piece is a &*()#$ hour long and I don't get a sippy? Here, here, on the airport bus, of all places, I need my sippy, and not some faceless wakeup call from a stoned clerk, or some crappy Cobb salad, or minibar jelly beans ($7.95!). I looked down at my fist. My clenched, desperate cup of coffee was there. What a sour, sad sippy it seemed, alas.
The last person to get on the plane sat next to lucky me. He was the window to my aisle, a tall lunk of a lad, and he casually sported a sweatsuit that was disintegrating at its edges, into threads that swept like a bead curtain over my face as he swung over me, smelling of nervous stomach. He said, by way of greeting,
"I've got movies."
Trouble, I thought. As I parsed this statement and its implications of excessive friendliness, he called the passing stewardess over:
"I have an anxiety problem."
"Yes," she replied, serenely.
"And listen, I really don't like flying, and I'm just really nervous."
"Everything will be fine. Just relax."
And this genius of customer relations walked away and he kind of trembled and swayed and gulped and I was left there with my rowmate and his movies. It was my job to do something, to prevent a full-blown freakout … (where is my sippy) … and I realized that this, THIS, was my heroic moment, that I had to be the brave sippy to his lunky puppy! Ahem, I said. This is an easy flight and I take it all the time! I fluttered by him all my horrible pretentious expertise about flying, all that well-traveled 'tude, bravado all to make him happy and I told him (become the cheerleader you've always wanted to be, Jeremy!) yes I LOVE movies and I'd enjoy peering over at the screen to peep soundlessly on whatever movie you want to watch … I was groggily heroic and stoic and zzzzz.
Some of my jellybeans spilled.
The plane took off. The ground receded into misty morning distance, far from buses and lanes. "Is it normal, for the plane to go up like this?" he asked nervously.
I didn't exactly know what to say.
And then there ensued that amazing mostly monologue of the Person From The Midwest Who Has Never Been To New York Getting All Excited About Coming To The Big City And Asking You What To Do But Looking Extremely Dubious and Bored About Any Suggestions You Give Him For Enjoying It. Finally I was in the taxi and against all expectations my luggage was in the backseat with me, turning into a giant alligator and it began hissing at me louder and louder about ssssssssss … sir you have to wake up now we are at your apartment, the maniacal driver said. And in my clean apartment I watched everything do nothing for a while. And I thought about that Schubert B-flat Sonata.
First, there is the folksong. I actually can't tell you why, while practicing this piece over the last weeks, I kept thinking folksong, folksong … maybe it had something to do with Ives or Bartok or with my need to get back to the people or a vitamin deficiency. But the more you look at the tune, the more you wonder about it, and of course the famous half-cadence at the end with the famous trill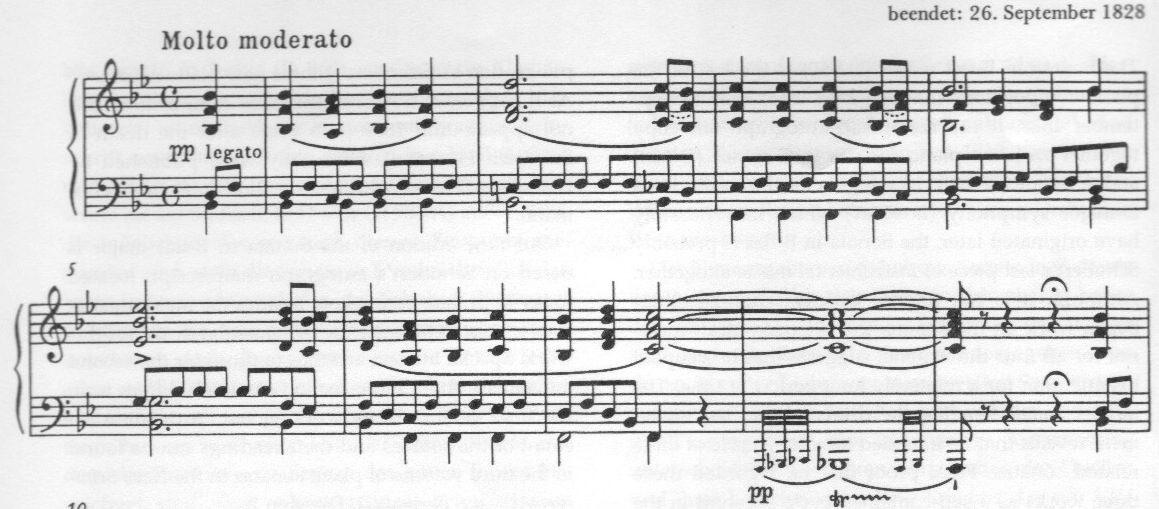 Audio clip: Adobe Flash Player (version 9 or above) is required to play this audio clip. Download the latest version here. You also need to have JavaScript enabled in your browser.
… of course, of course. (A little note to all of you who freak out every time I begin to mention terms like "half-cadence": don't freak out, everything will be OK, do you need a sippy? Look it up on Wikipedia or something. Jeez.) Now, it seems to me that this melody, that this opening of the Sonata, perfectly represents something Schubert did that Beethoven was more or less incapable of doing: that is, patting his head while rubbing his tummy.
If you think of Beethoven openings

Audio clip: Adobe Flash Player (version 9 or above) is required to play this audio clip. Download the latest version here. You also need to have JavaScript enabled in your browser.
… dramatic, tragic, rhythmic … or

Audio clip: Adobe Flash Player (version 9 or above) is required to play this audio clip. Download the latest version here. You also need to have JavaScript enabled in your browser.
… suspenseful, waiting to explode … or

Audio clip: Adobe Flash Player (version 9 or above) is required to play this audio clip. Download the latest version here. You also need to have JavaScript enabled in your browser.
… joyful bounding quiet energy waiting to explode … or even

Audio clip: Adobe Flash Player (version 9 or above) is required to play this audio clip. Download the latest version here. You also need to have JavaScript enabled in your browser.
Beethoven openings can be conflicted consecutively, but not simultaneously. There can be tit-for-tat, but rarely (if ever) tit/tat. In this wonderful opening of the "Tempest," there is the mysterious arpeggio, promising unanswered questions till the cows come home, and then there is the agitato, Allegro reply which doesn't find much satisfaction either (neither urgency nor patience are rewarded) … but, you see, these are two characters in dialogue and not one really screwed-up schizophrenic (no offense to you schizophrenics, I love you all). In Beethoven, conflicts arise in the narrative but are not woven into the DNA; they are not inoperable tumors of meaning. They arise from tendencies within the musical "characters" (as in classic Greek tragedy) which inevitably lead to conflicts: but these Beethoven characters are good solid movers and shakers. They at least have tendencies, and are not prone to strange loops of self-deception and doubt. They need anger management, maybe, but not Zoloft.
Schubert's tunes are made to reflect upon themselves, doubtfully. Also they draw so much more deeply upon cliché, upon signifiers of folk style, which are lingering around them, casting webs of (often sad) association. These webs of association may be part of Schubert's special compositional "problem." It makes his music feel less divorced from the world, more prone to weakness. When Schubert writes a little mini plagal cadence at the end of the first phrase …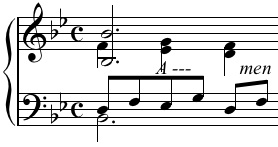 and then immediately begins the second, strikingly, by lifting himself up to the same harmony at length …

Well, this is the perfect example of what I mean. The plagal is a cliché, coloring the end of the first phrase, a beautiful but hackneyed detail; but the clincher is the subsequent elevation and reinterpretation of this cliché, held up there for for three beats while you listen to the aching quality of the subdominant (despite its past prosaic identity). No, stop, it's a cliché, you say, but why is it so beautiful?
Yes, that is one thing about Schubert: the musical cliché within, and without; as detail and suddenly in your face; moved from inner voice to outer, and no one, but no one, understood voicing better than Schubert. This revoicing is the eruption of the inner world … only what's inside is old news, a torn worn keepsake.
Back to the main thesis: Schubert has managed to do two things at once. He has written a beautiful, lyrical, pastoral melody, and at the same time has removed some element of naturalness or some urge from this melody, from this genre, from this world. He has imposed some other voice which says not so fast or simply but or why. Not the florid, surging, questing why of Schumann's "Warum?" but a darker, bleaker why. The trill is the final, coalescing materialization of this unease or malaise hiding behind the melody, but it is not (in my opinion) its first appearance. In the same way that Beckett, for instance, will begin a novel by tearing apart the justification for writing at all …
I am in my mother's room. It's I who live there now. I don't know how I got there. Perhaps in an ambulance, certainly a vehicle of some kind. I was helped. I'd never have got there alone. There's this man who comes every week. Perhaps I got here thanks to him. He says not. He gives me money and takes away the pages. So many pages, so much money. Yes, i work now, a little like I used to, except that I don't know how to work any more. That doesn't matter apparently. What I'd like now is to speak of the things that are left, say my goodbyes, finish dying. They don't want that.
… so Schubert begins by writing the folksong that is expected of him and yet, perhaps, his heart is not in it. To that end, I feel that the most chilling moment of this tune is not when the trill (death?) appears, but just before: just the beat where the dominant chord is sitting there, alone, without a bass, abandoned, waiting.
God, I'm suddenly really pissed at myself, calling the trill death, even in parentheses. It just smacks of too-easy equivalence and New Musicology, etc. etc., short-circuiting Schubert's meaning, making it all Lifetime Movie. How you "understand" the trill may be so important to the movement, and calling it death is–let's face it–kind of a cheap out. Ack. It may make the audience ooh and aah, but are those really the oohs and aahs we want?
To think of it another way, look at the contour of the main melody …

Audio clip: Adobe Flash Player (version 9 or above) is required to play this audio clip. Download the latest version here. You also need to have JavaScript enabled in your browser.
… Now, part of what makes this theme seem as though its "heart is not in it" is the way it circles around its very limited space. (Charles Rosen wrote the definitive article on this somewhere or other, but I'm too lazy to look it up … something about the gradual expansion of melodic space in Schubert.) It circles around its room of tones, not exactly looking for a way out; however, we as listeners may feel the absence of drive or will. We may feel the room's limiting presence without exactly knowing it's there.
Compare, perhaps, to the opening of the Archduke Trio …

Audio clip: Adobe Flash Player (version 9 or above) is required to play this audio clip. Download the latest version here. You also need to have JavaScript enabled in your browser.
It seems fairly clear to me that Schubert's melody is based upon Beethoven's, but the intervals have merely been flattened out. Both themes are "about" the subdominant though (or you could say they are vehicles for, or toward, the beauty of the subdominant) and dwell on it before leaving for a half cadence. Compare Beethoven's ecstatic half cadence with Schubert's haunting half-cadence. There you go; that's all you really need to get, to understand the "relationship" between these two pieces. It is the Archduke Trio theme, deflated and purged … without directionality, or with only the hint of directionality, with remnants of purpose, or question marks over its purposes. In Schubert I hear the simultaneous expression of something and the sadness of having to say it. The Archduke is not sad about what it has to say, no, no.
Now look back at the main melody contour … and now compare that to the little "event" of the trill:

Audio clip: Adobe Flash Player (version 9 or above) is required to play this audio clip. Download the latest version here. You also need to have JavaScript enabled in your browser.
The main melody essentially travels Bb-C-D-C-Bb, up a third and down, and so too the trill (F-Gb-Ab-Gb-F). These two circling movements are the same sort of thing, but at two different layers, and in two different modes. This combination of resemblance and dissonance is disturbing. There is a kind of grinding of layers against each other, a tectonic meaning-grinding, a deep-seated ambivalence. And after all it is just a folksong, right? (Right.) For me the trill is not death but this terrifying ambivalence, the darkest possible manifestation of the question mark of the half-cadence, the perfectly wrong thing. While the melody attempts to sing us into a certain space, the trill questions the existence of the space itself.
I don't think Beethoven ever wrote anything as disturbing as this folksong with the bass trill undertone, its cousin and its existential nemesis. Beethoven, clearly, had his sippy, but Schubert … Even comfort is uncomfortable to him.