I besat myself in front of the irradiating monster, and invoked its mysterious POWER button. Flicker, flicker …
"I always thought yogurt was just yogurt," said Jamie Lee Curtis, "until I did some serious reading in the yogurt aisle."
In search of similarly penetrating wisdom, I left the television's radius and found myself at the Ten Thousand Waves Spa in Santa Fe. I had laid myself out near the pool when two gentlemen entered the scene, separately … they seemed to know each other. The following conversation took place under the beautiful Santa Fe sun, with a stiff breeze from the pines blowing through the slats of our shelter …
"Greetings, man."
"Blessings. What are you doing here?"
"My girlfriend's workin today."
"Dude do you feel that wind today … it's like … Gaia is speaking to us."
"Yeah, dude, he is."
(As you might imagine, your faithful narrator was not entirely impassive at this moment, but let us leave him discreetly in the shadow of his towel.)
"So, I lost my best friend last Saturday."
[slight pause]
"Bummer, dude."
[Stammers]
"Yeah." [allowing friend to twist in the wind of his inadequate response] "It was my dog."
[relieved] "Oh, f*#$, dude."
"Yeah a couple months ago, he like sneezed."
"OK."
"Except he sneezed out these huge bloody lumps."
"Whoa."
[Meanwhile, let us not forget, a whole group of people is lying out there, attempting to have a spiritual sunsoak. Ancient Native American Lady looks on in the corner, naked, pendulous, while the Dudes discourse.]
"Yeah like two or three big bloody lumps and I guess the vet told me later they were tumours which he passed through his nose."
"Wow."
"Yeah then he couldn't breathe too well for a while … "
[imitates desperate breathing of his dying dog, at length]
"and eventually you know it was just time, he couldn't suffer any more."
"I'm sorry man … did you have a burial ritual?"
[no response … silence… for a while]
"Well, blessings of the Earth upon you, Dude." [leaves pool area.]
I was called away from the scene at that point, both sunburned and spiritually scarred. The dog's bloody tumours sneezed through my waking dreams.
But that was nothing compared to what horrors awaited me on the Internet. For instance, the following photo on Feast of Music: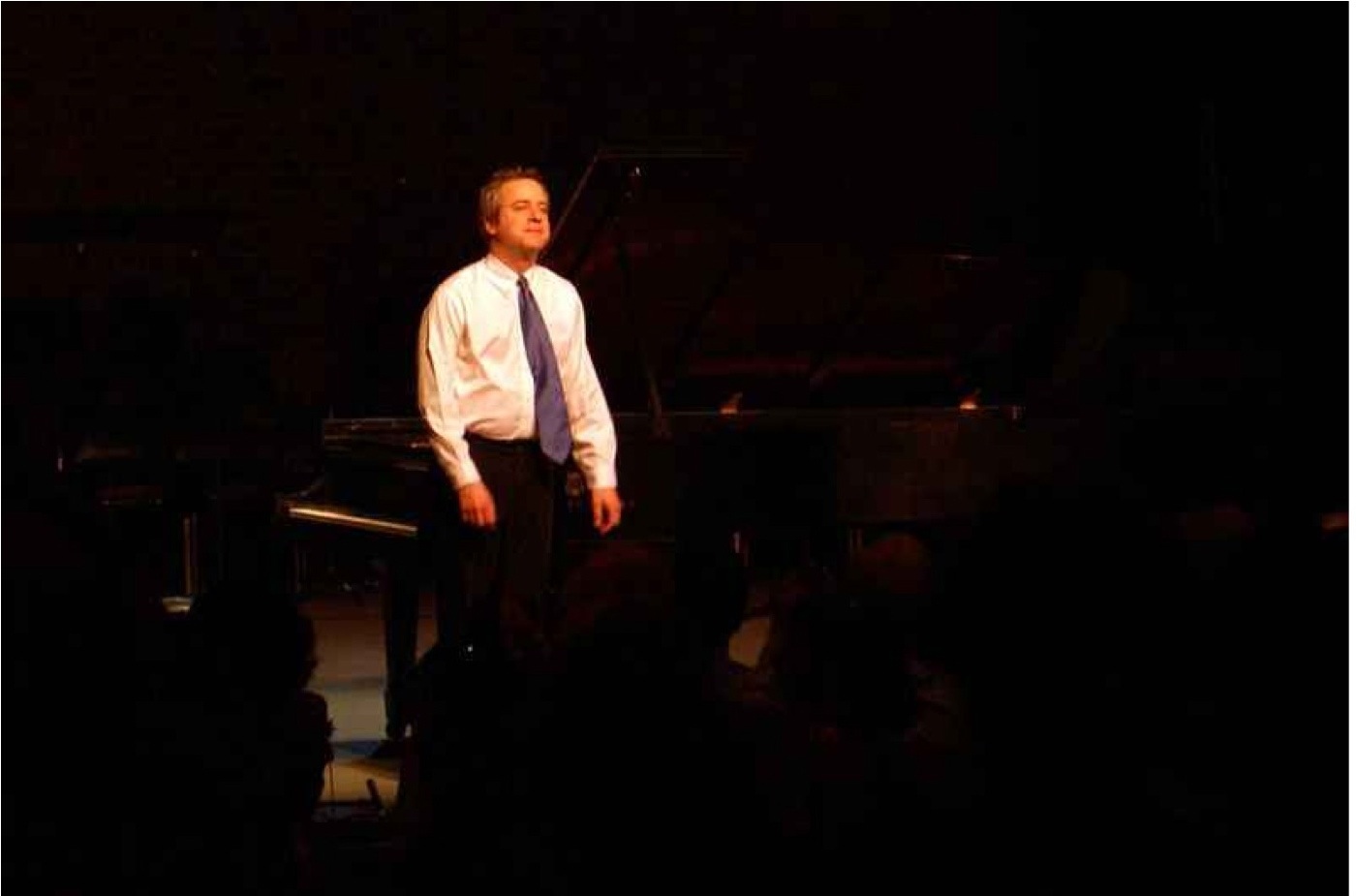 … which apparently is me bowing before or after the Goldberg Variations at Wall-to-Wall Bach. This photo sent me straight to the nearest gym where I tried to sign up with every personal trainer on staff. White is not slimming, clearly; but eeeeeeeeek! However, the Gilmore people were clearly trying to wreak a more psychological kind of revenge, by cruelly posting the following on their website: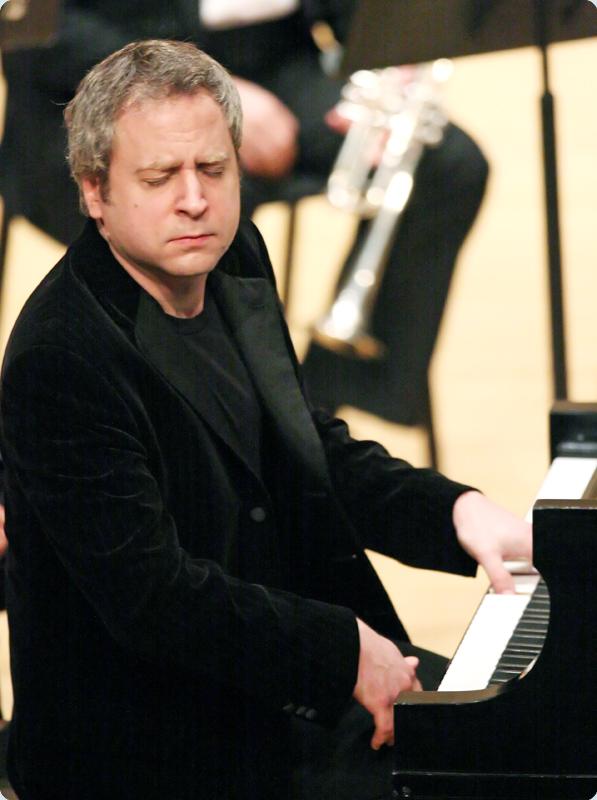 Oh. My. God. Bummer, dude. I feel the only way to recover from this is to propose a caption contest, a la New Yorker. What caption would you put below either of these pictures (with special emphasis on the Gilmore picture)? For example, what could I be thinking while I have that look on my face? Do not forget the Curtis Doctrine: yogurt is not just yogurt.
The best caption will get some sort of dubious prize. Blessings of the earth to all of you fair readers who participate.