Sinister logistical warnings. Wherever we were going, the word was, it was hard to park, get there before the crowd if you can. And so I hugged the people who had just played one of the towering masterpieces of Western Civilization pretty quickly, let fly a few seconds of sincerity, ran for the elevators. My vroom became an ooze on the second floor, where a bunch of post-Mahler people boarded, I was crushed in a corner by Mahler nuts, enthusiasm is a wonderful thing. Then the elevator dumped us in a confusing connector hallway, and I milled with a herd of kvelling mezzo-sopranos through various corners, out (buzz) through a security lobby, and then—this was the part that depressed me—down yet another elevator, down down into the dark, oil-smelling garage.
In the hall we used to use, you'd play, well or poorly, you'd push through a pair of double doors and then you were out … there was a gravel stairway going down away, some grass, and some very tall pine trees. I'll admit the highway was right there behind the stand of trees, but its rustling could have been a river. If you wanted it to be. And behind the tall pines, pining off towards the north, the sky with the sun slowly leaving it. You could stand there, and there was distance, which made things beautiful, even highway access roads, and staring off after each concert you had a kind of feeling of leave-taking. I remember once standing there after playing Beethoven Op. 70 #2 and someone came up and said something nice about it, and really one of the things I want most in the world is to play a beautiful Op. 70 #2, and I stood there watching the sky and pines with love which is hard to come by. A peevish, urgent nostalgia is for me the essential feeling of Seattle.
Back to parking. Although the party house was in an area I parked in every day to get my coffee, somehow at night this seemed impossible. Crammed cars, driveways, mysteriously painted curb … The directions said balloons on the gate but I saw no balloons on any gates. On either side, shadowy walkers, a mix of hipsters and concert attendees. Which would guide me? Finally E came out of nowhere, saying dude, park over there somewhere, a ways.
Walking from the distant parking space the street seemed darker, more tree-overhung, a truly strange lane, and I felt a bit unsorted perhaps because of the fat burner supplement I'd added to my smoothie in the gym earlier.
So that when I was silhouetted in the doorway, walking into the welcoming light, I was unprepared for onslaught. Just there on the threshold I asked "is this the place"? and they said yes. Still no balloons, don't know why I was obsessed with the balloons. I stared at their nametags for reference.
"You know what really stands out about you?"
I paused my entering process to smile. As a performer I feel utterly inadequate at receiving the compliment and I just spew thank you thank you until I feel like an idiot, no matter how much I am showered with kindness.
"Your wonderful explanations," she continued, "everyone talks about them."
My smile became imperceptibly more plastered on. "Thank you," I said. "Thank you so much." And she went on about how informative they were, how helpful, how etc. The other lady then joined in. "You know what I else I love? …" she paused I think, "your facial expressions, they are so wonderful, so expressive."
At some point I realized they had been complimenting me for two or three whole minutes without in any way whatsoever addressing my actual piano playing. It was a virtuoso performance. And let me say how nice they were/are and absolutely I am sure they had no intention of being rude, rather the total opposite, this was all completely unintentional or even pan-intentional but therefore perhaps even more deadly. At least in my current state, which had something to do with a smoothie and perhaps a bit to do with the Manhattans I had drunk the night before.
"Thank you so much," I said. "Meanwhile, I'm just starving, just really need some food." This was the natural, polite exit strategy from the conversation and one they and I both wished for, I had the feeling, and it fit hilariously into the stereotype of the Hungry Musician, so they pointed me with smiles to the right, to the dining room.
I smiled. Then I went straight to the left, and stood around by myself, averting my eyes from them though they were a mere ten feet away. I swear I did this. I didn't do it to be rude either, although in retrospect it seems like one of the transparently rudest things I have ever ever done. Can I apologize now? It was because of the supplement. I caught my breath a little, loosened the smiling muscles from their rigor. But soon a man came up to me, a jolly man, he said "you know that talk you gave about Ives?"
He was referring to a quip-filled intro I'd done ten years ago. It was to explain the idea behind the Ives Piano Trio and for some reason it ended up on the compilation highlights CD of the Seattle Chamber Music Festival and it came up a lot. Honestly, I was delighted that it was loved, on the other hand, it represented a Glory Moment of Wit that I could never recapture. (Peevish nostalgia, yo.) "Yes of course I do," I said, smile muscles back in their grooves. These days when I smile a small wrinkle appears below one eye.
"That was a great talk."
"I'm so glad" (variation on thank you). I really was glad, I was proud of that talk, I'll admit it.
"I bet you I could do that talk from memory right now."
Wow, that was a lot. "Haha, Good Lord," I said, and was continuing, "that's impress …"
But he cut me off. "I never listen to the piece, but I listen to the talk over and over and over."
Smack, whap, the death blow. Magnificent! One had to admire how he wound up to the (completely unintentional?) slam. The entire PURPOSE of the talk had been to suggest or encourage a love or affection for the piece to follow, but for reasons unknown, karmic reasons, the thing had backfired, boomeranged, misfired, I'd been too clever by half, and now the talk had become more important than the piece itself, and this also became an insult to poor innocent Ives, whose Trio is still the best, most interesting, sincere and wacky piano trio yet written by an American, in my humble opinion. As I smiled like an airport Starbucks employee with their manager over their shoulder, I thought I will never explain anything ever again.
"Well, I'm so glad you enjoyed it." I stumbled away, took a dumpling from a tray for no reason of hunger. I was bleeding. These people here at this party were the Paganinis of the wounding compliment. Actually (I reflected) it had even started earlier when I'd wandered out to the lobby at intermission. The new maestro was there in the lobby, and since we had worked together the summer before, he gave me a lovely hug which felt a very sincere greeting, a musician's greeting to a musician. I was reading too much into it, surely, but it was very nice. Also very nice of him to come to the concert, it made me feel immediately like apologizing for clearly not totally being at my best, though I wasn't going to mention the smoothie. He was introducing me to his wife, when another regular concertgoer of SCMF rather blatantly interrupted.
"Did you say," he paused, "you were going to record those last pieces you played?" He was referring to the Ligeti Etudes which I attempted to play from memory for the first time earlier that evening.
"Yes," I said, forced to choose between totally ignoring this new person and rudely interrupting my existing conversation, and choosing wrongly.
He looked confused for a moment. I had an escape opportunity, which I failed to take. He continued: "Is there … a … a market for something like that?" Yes, market was the epicenter of his sentence, the essence of what he had to say. Here at a f&*#ing classical music concert! In the lobby surrounded by all the plaques with all the names of all the people who gave their money on faith and out of love to keep this thing barely afloat. I think I did pretty well considering. "Well, we'll find out!" I said, jokey, smiley, just letting it all be funny, how financially disastrous it all is, how absurd.
The maestro was no fool, he made his escape, threw me a see you later gesture. My guy looked at me another three seconds, stupefied. Then a bit slowly, "You're saying … there's a market for that sort of thing?" As if I hadn't suffered enough, smiled bravely enough, turning it into a joke, no, he wanted me to really let that lack of marketability sink in, let the poison of un-profit seep through my veins. "If you say so" he eventually said. He wanted me to acknowledge it, how ridiculous that anyone would ever, ever want to listen to that music, ever smack down cash or plastic for something so profoundly impossible, silly, like … It struck me later how he translated his distaste for Ligeti (whose name he did not think worth remembering) into monetary terms, the thoughts of an accountant, and he actually interrupted me to do this.
Back to the party.
I don't really need to eat after concerts, since I eat rapaciously—even disgustingly—before each and every performance, but there I was on the patio, chewing kale salad. Often the food at these things is so beautiful, I think of all the loving effort put into it, I feel sorry for it just sitting there. This transitions seamlessly into wondering how delicious it might be. In short, a combination of pity and gluttony makes me eat.
As you can imagine, I had some despair on the patio as I ate my unnecessary food, despair of the purpose of saying anything. I was repulsed by my expressive expressions and my helpful explanations. I realized I was terrified of my audience, not when I was playing for them, but immediately afterwards, that they would destroy my bubble, show me it was made of self-delusion.
Everyone was chatting, chairs were moved, drinks were fetched, and in the middle of all these party noises, all the logistics, the scraping of the chairs on the flagstones, I was visited by memories of pre-concert details: ironing my shirt, making sure I had food in place, looking for cufflinks which I didn't need, worrying where my music was, fretting if my clothes satisfied the new dress code, remembering a fingering I had forgotten …. A silly meaningless mantra started up inside me: this is not a dinner, but a din, this is not a dinner but a din. The din was anything, surface noise, insecurity, the continuous scratchy distraction, the sip of chardonnay, the fake smile, that made it impossible to be back in the lamplit room with piano in fantasyland … door closed, cup of coffee on shelf nearby, just you and the voiceleading, you and two stubbornly meaningful notes which don't want to give up their meaning to just any old way of playing them.
On the patio, I wished myself away to a place in the Brahms Clarinet Trio, which is not a place and has no patio.
Let's go there, you and I, to the 3rd movement, where Brahms, after all the Beethovenian Bother, after all the years and years of working out motives and teasing out abstruse musical thoughts, seems to admit without regret that there's nothing better or purer than a waltz. It's all there, the easy phrases, flowing one to the other, sighing, growing/blossoming like flowers.
What can you say about that? Brahms says.
Having written a delicious charming wistful waltz would seem to be self-evident. But here, in the coda, we've waltzed, we've ländlered, we've danced through time, and now—Brahms says—this is what I have to say about waltzing, this is what I've learned and actually there is only a short time to say it now, because the end of the movement (or death or night) is coming and there won't be time to say anything anymore. Compressing or compressed—it's hard to know which, either confined by the pressure of having to say before it's too late or simply because what he has to say is by its very nature distilled—Brahms utters this last best thing.
He slows the tempo down. The slowing seems to mean listen closely. These notes (he says) are not going to be easy, simple, they will not flow in easy threes like the others, but they have something to say about the others too.
And then he folds everything in an embrace. He heads out to the edges of the keyboard, hugging all possible other pitches between widespread hands. For a moment the embrace is major-ish, (D-F#-A-C#), but only for those couple bars, paradise bars that can't last, then F-sharp becomes F-natural, world of difference, and the beneficent embrace becomes tinged with sadness, like a wave of sadness, and then, the sadness having broken the embrace, we come slowly down the scale, A, G#, F#, E, D, C#, down the sixth (quintessential waltz-interval, summing everything up while bidding it farewell), each note to be played as the one you never want to leave behind. You can't do better to express in musical notes how a person reluctantly leaves a hug, having not quite accepted departure and distance.
There are some days (bad days) when all I see in this passage is a peaceful wistful wind-down. On good days, every note is charged with tremendous unspoken unspeakable meaning. I know I said I wouldn't ever explain anything again, but here I am, what the hell, I can't help talking about this stuff, like I can't help eating after the concert. It's like a belch after a good meal, gases released by aesthetic digestion, it relieves some of the pressure of the greatness of the thing. Sometimes music also explains itself, comments on itself, turns in on itself, as if itself were not quite enough. Why does this waltz not just vanish into simple thin air like so many, into charm? Brahms is not just ending, he's revealing meanings: the waltz is not just a dance but also an icon, an instrument of memory and desire. Dances end, but their memories, the rustle of a dress or the glance … Each detail of this coda tells. In his embrace of all the registers, you get the sense of trying to gather something together (memories? thoughts? affection?), desiring to hold it all impossibly, in the slowing tempo you get this reluctance to let go, in the harmony, the beautiful seventh chords, you get the sensuality, seductiveness of the waltz, and with the mid-course shift from major to minor, the happiness immediately shot through with sadness, the double edge. Brahms says it all about the waltz, right there, before it's too late, because it's too late.
I would give you an audio example from our recent performance but an audience member with an excellent ear for the most profoundly fragile musical moments decided to cough through most of this section.
Damn. Reading all this back, I really seem like even more of a jerk than usual, it would seem I'm picking on the audience, lamenting its very existence, which is not at all the idea, the opposite of the idea (please note, blog commenters, everyone: this is NOT THE POINT.) No. I apologize for this terrible impression. I had a rough post-concert party. Chit-chat can be deadlier than you think after a smoothie and Ligeti. In fact, I forgot to mention one thing. Just as I pushed the door open to the lobby at intermission, standing there in the crush against the door with her cane waiting but not knowing whether I would come out or not (I almost didn't), there was a woman there who has been coming to these concerts for a decade. The woman is in her eighties, maybe nineties, she went to Oberlin. (Go Oberlin!) She can barely get around, she doesn't live in Seattle, she lives on one of those islands in the Sound, she has to catch a ferry, it's like a couple hours trip for her to get to the concert, but she always comes to hear me for one concert, and because it's so difficult, it's always maybe the very last time.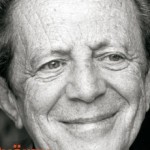 It's impossible to know from our brief meetings, it's likely self-delusion, but I'd like to think for her it's all about the music, her smile is fantastic through the wrinkles, rippling through the wrinkles in a way that seems to be very musical. My old teacher, who had the most incredible, marvelous, subtle wrinkly smiles at certain moments in Mozart, said you should think while performing as if you were playing for the composer. But the composer is dead, most of the time. Sometimes I think it would be best to think of playing for this woman, or another friend, who knows and forgives everything.