A week of 90s in Seattle … my hostess and I are both heading down delirium's loopy driveway. The notes on the piano that I don't feel like practicing swim in the heat. I flee to an air conditioned coffeeshop.
Outside, nothing but blue sky and hipsters in shorts. The trembling tattooed hand of the barista shapes the milk into beautiful rosettes, which swirl down the drain of my throat. Gimme another, I say, like the weathered movie cowboy at the saloon, I'm thirsty, pounding my demitasse on the faux tile of the espresso bar, and instead of a gun/holster I slide my MacBook into my messenger bag and harrumph off into the blazing sunlight.
Overheated, over-caffeinated, I manufacture outrage. I scream inwardly — thoughtless accents are the enemy of music!! I want to spend my day making up similarly unnecessary manifestos, penning declarative sentences like fortifications that will piss people off. People will come to find me in my castle of This Is True, they'll knock timorously on my leaden door of Certitude, but in the meanwhile I will have snuck off to a grass hut on the beach, lying half in and out of it, in swim trunks, my feet playing idly with the sand. So long, suckers!
Later that day, on the way to play a concert, I order myself a pizza but am disenchanted by my warm box of dough and cheese. I add a berry gelato to my order, and soon I am driving down I-5, spooning gelato frenetically into my mouth while cursing at traffic. This is not cooling enough; I start rubbing the pint of gelato all over my face and arms; the gelato melts, drips berry color all over me; my concert clothes luckily are in the back seat, looking on reproachfully, with furrowed, wrinkled cuffs. I arrive sticky and nauseous backstage. Excellent.
Hot, vexatious, residually sticky, I sit down at the piano to play: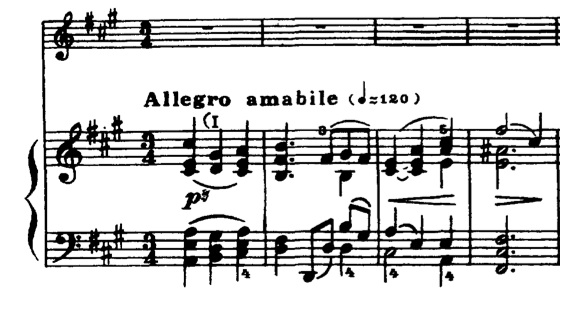 Audio clip: Adobe Flash Player (version 9 or above) is required to play this audio clip. Download the latest version here. You also need to have JavaScript enabled in your browser.
And already I am happier. I'm amiably asymmetric, 'cause Brahms wrote my part that way! I play four inviting bars: classical, simple. But when I'm done the violin adds on one little bar, a romantic suffix: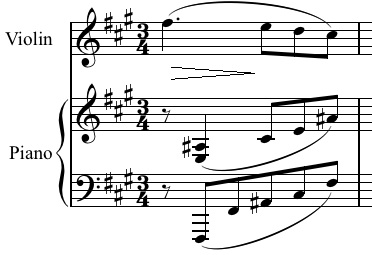 Audio clip: Adobe Flash Player (version 9 or above) is required to play this audio clip. Download the latest version here. You also need to have JavaScript enabled in your browser.
Together the four plus one make something, an interesting five. At the outset of the piece, Brahms keeps repeating this lesson, explaining this particular 4+1=5 over and over again. Almost like Sesame Street lessons in musical arithmetic? Let's say I'm the Cookie Monster, and the violinist's interjection is a cookie added to my hoard. I try to play each phrase with the understanding that I crave the next cookie, and–eventually, who knows?–all the cookies in the world.
Whoa, I believe I have just created Cookie Monster Musical Analysis. Schenker, eat your heart out.
There is something about this asymmetry that is flirtatious, too (most affections are asymmetrical). All the elements of the practiced flirt are there. The violinist offers but the one bar each time: a minimum of attention, but just enough to keep the piano interested. The violinist flatteringly repeats back what the piano offered, but with a more sensual, flowing rhythm: a good mixture of stroking the pianist's ego and suggesting an alternative. This one "extra" bar is not an insertion but a compressed, distilled meaning: not just the tentative beginnings of a dialogue, but a symbol of encounter itself, a parenthetical musical rendezvous.
After the flirting is over, Brahms gives us some Serious Development:


Audio clip: Adobe Flash Player (version 9 or above) is required to play this audio clip. Download the latest version here. You also need to have JavaScript enabled in your browser.
This is a mathematics lesson, without cookies. It's Terribly Serious; two bars of 3 are presented, then subdivided into 3 bars of 2, as if to actually embody the equation 3×2=2×3! Our delicate flirtation has become loud and square, all too quantifiable. You might complain: oh Johannes, off you go again, with your subdivisions upon subdivisions. We get it, but what's the point?
Brahms creates this structure in order to dissolve it. One of his most characteristic and moving gestures is to create complications, and then to release and transform these cogitations into sensual delight. The "musical mathematics" do not last long; soon enough, the hemiolas become:


Audio clip: Adobe Flash Player (version 9 or above) is required to play this audio clip. Download the latest version here. You also need to have JavaScript enabled in your browser.
These two bar units are still divided into threes, but more subtly, with a softer hand. The principle of division remains; but the insistence fades. The boundaries waver. There's a whiff of the waltz. The piano stops enunciating the quarters, and relinquishes them to a flow of eighths. Earlier, in HemiolaLand, Brahms connects his moments with stiff, bulky girders, but now, at the crucial emotional moment of juncture, we have this: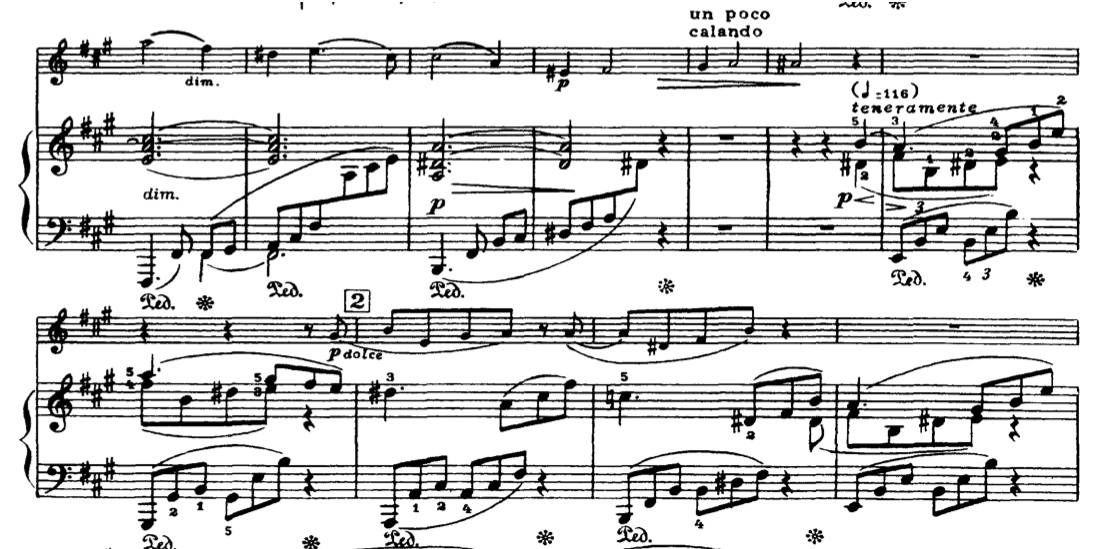 Audio clip: Adobe Flash Player (version 9 or above) is required to play this audio clip. Download the latest version here. You also need to have JavaScript enabled in your browser.
A masterstroke: starting in the fourth bar above, the violin sneaks upward chromatically, all alone. This is a transition made of nearly nothing, the most delicate possible thing, a slender thread of suspended time. A tenuous slide from one note to the next. And the pianist, invited by this gossamer gesture, enters with one of the most beautiful themes ever written, an almost iconic waltz, in which each bar is now divided into 2, though the meter is in 3 …
Audio clip: Adobe Flash Player (version 9 or above) is required to play this audio clip. Download the latest version here. You also need to have JavaScript enabled in your browser.
Within a short span, we watch Brahms convert himself from a Beethovenian Constructor to an Evanescent Waltzer.
Over this second theme, Brahms writes teneramente, tenderly: which is all you need to know? Yes, there's a sweetness, but each "main note" of this theme is a dissonance, a discord. And each dissonance is slightly different from the last; each a different shade of wistfulness, or of pain. I came offstage with S and we smiled at each other feeling we had shared something; a wonderful moment of musical affinity. But I kept wondering, why is this piece (of all the pieces in the world) so important to me right now? Why is the tenderness of this movement and particularly that theme so important to me amid all the crap, all the travels, and festival madness? A jaded devilish voice inside of me says it's just Brahms A major sonata, everyone's played it already, it's already been done, etc. etc. but another says that that theme still has yet to be played better, that some pianist has not yet pursued all the repercussions and consequences of tenderness hiding in those notes. It's an inscrutable sweetness, a tenderness that unwinds a knot of contradiction, shows you briefly how the knot is made — and closes it up again.
Back in the car, I find a half-full pint of pinkish liquid, a tepid pizza, and a cell phone with a tender message on it. I press–what else?–redial. A familiar voice answers, flirtatiously.