Well, I was just sitting round the apartment on my same old butt, eating crappy Indian takeout, looking longingly at the box of wine my friend C sent me, etc. etc., when I decided to do some due diligence regarding my exciting assigment as vlogger for the YouTube Symphony Orchestra. In case you don't know, the YouTube Symphony will be performing at Carnegie Hall on April 15 and there will no end of excitement there and symphonic synergy smoothies and virtual musical orgasms and DJs and free naked snowboarding lessons and everything your heart can desire, so you should buy your ticket here. (Can I have my check now?)
Anyway, as you can imagine, I was very curious to see who got picked as the pianist winner. You can go look for yourself at this link. The pianist is by his own admission not primarily a "classical player," whatever the heck that horrible phrase means, but there is something very likable about the playing.
For some reason I found his video very moving. Something about the Italian sunlight–or is it a spotlight?–streaming in from the undisclosed above; something about the beaten-up upright, cornered against the wall, guts exposed … But maybe most affecting is the dog in the corner, slumped expectantly. I admire how the video begins without people, with just piano and dog; who knows, perhaps only at this moment of being filmed they realize they are both beasts?
Notice: the dog begins its listening lying down, a counterintuitive or ironic approach to the electric opening of the "Waldstein." But, at roughly 2:00, the dog raises its head into rapt attention. Now, this moment is the climax of the exposition of the Sonata, and is also the first moment when Beethoven marks fortissimo.

Coincidence?
The dog remains observing, possibly panting with excitement, through the exposition reprise and a fair stretch of the development. He only agrees (reluctantly) to rest again at phase two of the development, a section which in laymen's terms might be called "the really repetitive bit with all the arpeggios." Hmm, I thought, could this animal possess a humane sensitivity to formal boundaries, or is this a bit of trenchant canine critique? And while the pianist is coyly sneaking up on the movement's final cadence, this dog is nobody's fool. He senses the end is coming, and stands up, eager to claim his reward as an attentive listener … one has to assume, some Italian version of snausage.
One deftly timed change of position might be a coincidence, but THREE???: no, there's no doubt, this dog really KNOWS the "Waldstein" Sonata. If it could translate its brainwaves into what we would call language, it could probably write a more penetrating paper on this work than your average Curtis student.
And then I was creamed by a second wave of musings, more maudlin than the first. How solitary the pianist's life is, for starters, how loveless and yet devoted; how much time is spent alone with your black instrument and your blacker insecurities! And the dog, in that void, as faithful friend, as confidante of so many joys and losses which non-musician humans can never absorb; the tenderness he feels for his owner, sitting patiently while he sets up the video camera, yes, always patient, always staring with facsimiles of love; my nostalgic clichés flowed freely towards my childhood dog, Socratesia, aka "Soc," how she used to run around in the back room, where I was confined to my work, and sit for hours under the piano, only howling when I played the theme of the last movement of the "Emperor" Concerto–a fact which has probably influenced my interpretation to this day–and the way after a long practice session I would sit with Socratesia, caressing her burr-flecked fur and staring out the window with her while she watched the evening rompings of rabbits through the pink, dusky desert.
If that little prose indulgence made you want to hurl, good, please read on.
Thank you, Tino Balsamiello, for dredging up these sandy memories, and reminding me of the great importance to the pianist of a furry muse, whose reactions to your music-making are perhaps more inscrutable than those of your average person, and therefore all the more valuable. The furriness would seem incidental, and yet no, the fingers, after long hours chasing nuance on the impertinent, unfeeling ivory, need the rustle of hair–some tangible, textural sign of a sensory epidermis.
I rely very much upon a furry muse to keep my musicianship in check. If there's one thing I've learned in my now 32 years of music-making, it's not to have too many tendencies. So I require a furry trusty friend, who lives on or around the piano, to inform me when I'm running off the rails. For instance, if my interpretation of the "Goldberg Variations" is starting to become manic rather than cheerful, my friend looks at me askance, thus: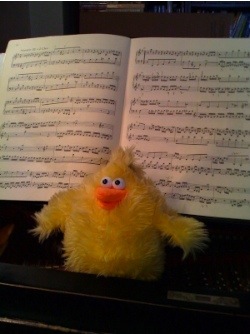 But if, on the other hand, he feels that I have not yet captured the spirit of a given variation, and that my imagination needs a kick in the posterior, he looks differently askance, thus: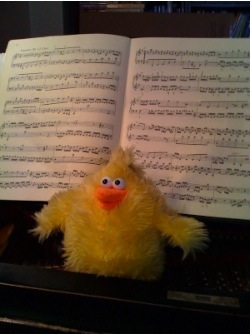 In his googly eyes I find a cosmos of artistic discernment.