The night before Thanksgiving, I walked into the no-frills liquor store.  Maybe you know it; it sits near 88th and Broadway and lends its merchandise no illusion of glamour, its patrons no solace of disguise.  Rows of bottles climb up utility shelves to a dismal ceiling, and every last dust particle adhering to every last bargain Chianti is visible in the remorseless fluorescent gleam.  Aesthetically, it is so much closer to a hardware store than a wine shop, and if you really must know, the point of all this verbose pseudo-Dickensian scene-setting is that I was quite surprised, while pondering a Wine Spectator blurb, to hear the strains of Rachmaninoff's Suite for Two Pianos.
I tried to concentrate on selecting a wine to bring to the Thanksgiving Feast.  It was impossible.  The two pianists on the radio had become implacable demons in the back of my head, and the wine blurbs blurred into a haze of chocolate-currant overtones and melodies with far-too-obvious orgasms.  Just as I was asking myself, in manufactured outrage, how Rachmaninoff in his earnestness could manage to screw up even the orgasm (musically speaking), the shop owner walked in the door, and said to the guy at the counter …
"What?  Ya got the opera on now?"
His tone was wry, mocking, redolent of rye breads in Long Island diners on desperate Saturday afternoons.  Especially—may I add?—the word "opera" amid his sentence came in for particular opprobrium, a kind of harsh bridge-and-tunnel emphasis, as if it were a sour chunk of verbiage amid the fruit salad of his thought, or a flat tire on the Garden State Parkway.  I tuned my ears reluctantly back to the radio, to make sure I had not misheard … but no … no voices were to be distinguished:  just the two pounding pianists, and the ongoing, repetitive search of Rachmaninoff for something profound to say.
There was a 30-ish fellow standing at the cash register (Yankees cap, sweatpants) and he shrugged.  He could not explain the opera on the radio.  I looked back at the owner, whom I now regarded as a sort of genius.  How on Earth did he manage to identify it as "opera," despite the complete lack of the human voice?
"Well, it's good for ya, good for the brain," the owner said.
"Yeah, well, too late for me," said cash register.
"You can't hear anything any more?"
"Nah, my brain's burned out, since college."
"So why you listening to this?"
"Hell if I know."
Alright, I said to myself, I'm outta here.  I didn't know why I was listening to all this, either.  It was as depressing as an empty can of generic cranberry sauce.  I smacked my wines in front of the cash register—who knows what wines they were at this point—and paid and fled.
But of course as I walked home up Broadway, I couldn't help digesting what I'd heard.  If you start from the premise:
Classical music equals opera.
And you add the further supposition:
Opera/classical is a mental vitamin; it is "good for you."  (It is useless if you drank too much in college?)
It seemed to me fairly clear the next logical deduction was:
Classical music is broccoli.
Yes, baby, yes. The Broccolization of Classical Music had been going on for some time, I suddenly realized in retroactive historical insight which certainly deserves the next MacArthur Genius Grant.  You might say classical music is often over-esteemed; and broccoli is almost always over-steamed!   Its leafy tops tend to soak up a lot of liquid—in the same way that Classical Music seems to soak up a lot of tradition!  I rest my case.  If only we had known a bit earlier, we could have stopped this rampant Broccolization, or slowed it, with public service announcements, a cooperative effort between the ASOL and the Broccoli Council.
All this thought of soggy stalks made me crave sharp pixels.  When I got home, I turned my TV to its most reliable HD channel:  PBS.  And there, of course, was André Rieu.  (André on PBS is as ubiquitous as Huang Ruo press releases in my email inbox.)  Oh, André!  I watched for a little while, sank into vegetal despair, and realized another great law, to set beside the last:
1)  Classical Music is Opera is Broccoli in the Eyes of the World.
2)  André Rieu is the Absolute Zero of Cool.
I don't presume to say that I am any great cool cat.
I have been, on lengthy occasions, as great a nerd as anyone should ever be.
But I propose that these André Rieu telecasts, complete with phone banks and PBS pledge drive emcees, are the least cool thing ever created.  I mean, look at those ornate, gold-coated music stands, and the campy, pillowy outfits; look at his hair, for God's sake (then look away, or you will go blind); watch the camera pan over some woman's eyes as she leans on her boyfriend's shoulder, brimming with tears at a saccharine arrangement of "Memories;" look at the fonts, etcetera, etcetera!  Drink it in, the complete absence of cool.  Swim in this black hole of hip.
And the painful thing for me, of course, watching all this, my eyes thrown back in bewilderment, is knowing that I am attached to André in some way.  He and I are plying the same trade.  In the eyes of much of the world, we are both broccoli.  I reached out, mentally, to my broccoli brother, I sent out leafy tendrils of tender embrace, before recoiling in horror.  My mental state at this point could possibly be represented by the following chart: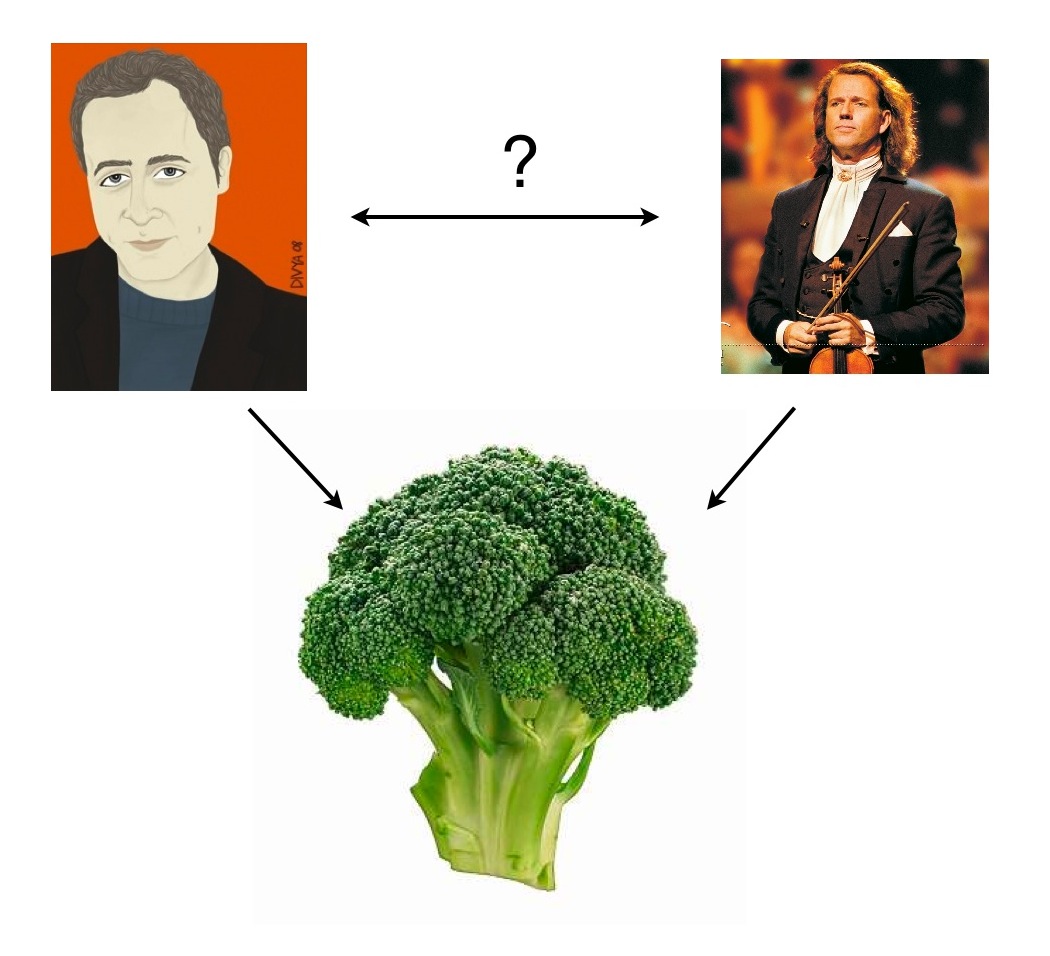 … which is the stuff of nightmares.  My kinship with André tormented me; I found these thoughts eerily echoed at a comedic website entitled Deadbeat:
…Who is [Andre Rieu]?  Who isn't Andre Rieu? Me, I hear you saying, I'm quite sure I'm not Andre Rieu. But how sure are you?
Not as sure as I'd like to be!  Culinarily, the André solution to Broccolization is to dump cheese on the broccoli.  Now, as you put more cheese on broccoli, the more delicious it becomes, but simultaneously, and proportionally, the less cool it becomes.  (The closer it gets to Peoria and the farther from the olive oil coasts.)  If I may merge culinary and calculus terminologies, I believe André represents the absolute limit of broccoli as cheese approaches infinity.  It is not possible to get cheesier than him, as it is not possible to go faster than the speed of light.  I believe this formulation deserves yet another MacArthur Genius Grant (is it possible to get two?).  But why do I find this limit so appalling, when people in the audience seem so happy and musically enthused?  I want music to be good but not "good for you," I want music to be fun but not frivolous, I want total emotional involvement but maybe not too much, I want music to joke without demeaning itself or others, I want the concert to be serious but not Serious, I want people to want to suffer, oh who knows what I want, I want it all, I want classical music to go beyond broccoli, to Japanese eggplant, or sesame leaf, hell, the whole produce section, preferably prewashed and prepped by some patient sous chef of the soul, and ready for delectable consumption, and clearly, judging from the length of this post, I will do anything to avoid all the practicing I really really really should be doing.