I was truly blown away by a recent comment on this blog. Perhaps in order to really make this clear, I have to explain that much of the early part of my summer was spent working on music by Leon Kirchner, which was celebrated wildly and orgiastically (to the extent a chamber music festival in the surburbs of a Midwestern city is capable of such) at the Great Lakes Chamber Music Festival. I have a deep affection for his music and for him, and have spent a fair amount of time with him over the last few years…
Sometimes I wake up in a cold sweat from my newest recurring nightmare. It's twenty years in the future, and someone (some student, some panelist in some piano forum in Lapland or Saskatoon) is quoting to me something from the blog … "But, Mr. Denk, didn't you say blah-blah-blah?" … super-seriously, as if it were some really profound musicological comment, whereas when it was written it was intended entirely sarcastically or ironically or some such … Nono! I say, desperately, that was a joke, the whole thing! but they look at me pityingly, as though I don't understand anything anymore.
Which brings me to the subject: the recent post in which I "discovered" that the inverted fugue theme of the "Hammerklavier" was actually the theme from the sitcom Three's Company. Some enterprising reader did the 0.0003 seconds of work necessary (which you'll notice, I did not do) to find that the composer of said theme was Joe Raposo, who was quite well-known as the composer of music for Sesame Street. This same reader, I believe, informs me that Joe Raposo studied with LEON KIRCHNER at Harvard!
AAAAAAAHHHHH.
Perhaps this visual aid will be of assistance …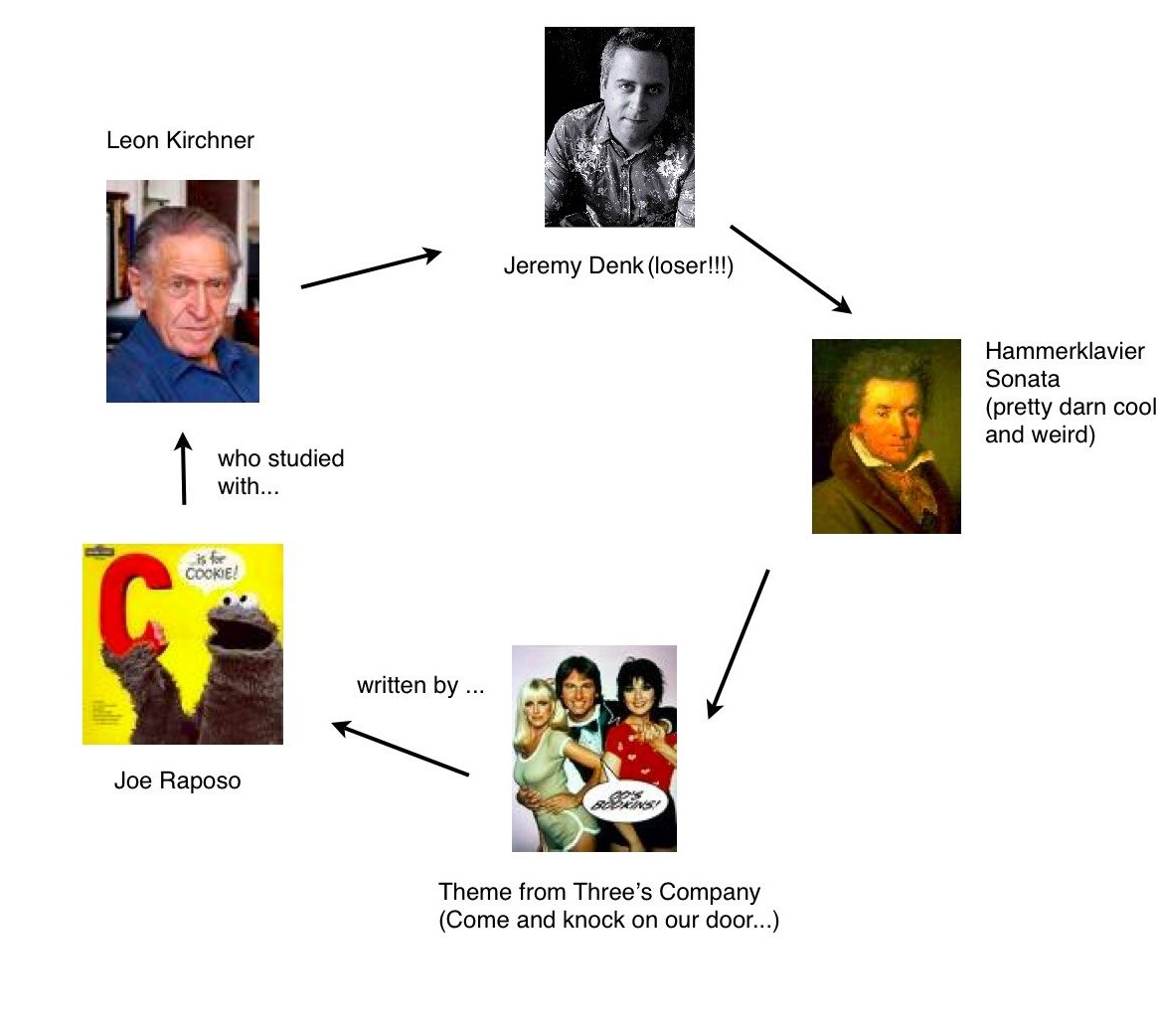 Here, in this pentagram, everything is illuminated. Or everything just circles back, sickeningly. I considered fleshing this out a bit more. For example, Joe Raposo is also the composer of "It's Not Easy Being Green," which is easy to connect to some earlier Think Denk posts about frogs, as well as a general sense of alienation common to Beethoven, Ives, performers, artists of many stripes (mostly green stripes) … Do I even need to draw the transecting line between Beethoven and Kirchner (through Schoenberg of course)? And my childhood memories of watching Three's Company and eating cookies (cookies!) while being yelled at by my mother to clean my room? It's mere child's play to see that absolutely everything in the universe can somehow be connected to this disturbing incestuous circle and why are baristas always so cute?