Yesterday, I made a tremendous musicological discovery. I was going to save it, perhaps, for Musical Quarterly, or People Magazine, but I simply cannot wait; it's bursting out of me, ejaculating (if you will) prematurely.
It is my contention that any pianist, at some point in the process of preparing the Hammerklavier Sonata, will begin to resent the very fact that this idea …

… was ever written on paper. Perhaps it will happen at ten in the morning, at midnight, at some dark hour of the soul, or some deliquescent midday doldrum; perhaps when Beethoven turns the theme backwards and makes you play it with a very strange countersubject; or perhaps when he plays it upside down and rightside up simultaneously: anyway it will happen. You will say to Beethoven, under your breath, muttering darkly, channeling Brando in On the Waterfront … "Why I oughtta…" and Beethoven will simply smile back, knowing full well he has an excellent chance of whupping your butt. (Is that how you spell whupping? Where's an OED when you need one?)
This pianist petulance may be fleeting; let us hope so.
Anyway: a certain mania sets in. The permutative insanity, kind of a musical caffeine orgy, of Beethoven's often absurd contrapuntal writing, combined with the trills reproducing like well-fed amoeba all over the registers of the piano, induces a certain fever, a certain "not-again-ness" and as the subject reverberates around your practice room you may feel haunted by some strange spirit, some fugal demon … you may be whimpering on the floor at certain point (not in pleasure) … it depends on the strength of your temperament. I looked to my iPhone for moral support, but it just sat there, pristine, magnificent, unconcerned, on the counter; it simply refused to ring and rescue me from my work ethic.
Yes and I was there, people, I was THERE, at that place, haunted, betrilled, feeling that the theme could-not-would-not come back yet again (like the villain in some horror movie that after seventeen fatal stab wounds and being drowned and set on fire and placed at the epicenter of a nuclear explosion still manages to come lunging back, handling his butcher's blade) … when I came to this moment when Beethoven inverts the theme:



And at that moment (consider my precarious mental state, readers!), like mysterious messengers marching alongside the music, some words manifested themselves in my brain:
Come and knock on our door
We've been waiting for you
Where the kisses are hers and hers and his
Three's company, too!
I sat back on my bench, stopping midphrase, aghast and atwitter; my brain fever was twisting and turning in the winds of intertextuality. I took a deep breath. I tried to begin again…
But the words came back again, stronger this time, going along with the music…

and I felt I was beginning to play the fugue subject in a sort of boppy, late 70s manner, and I had to stop again. Agh! I held my hands by my sides, let them drop. Fate intervened again, fatefully. A freak wind blew through the piano room and the score's pages flipped, as if by magic, to the opening page of the fugue, where I read:
Fuga in tre voci, con alcune licenza
[Fugue in three voices, with some license]
Fugue in THREE voices ?!?!?!?!?!?!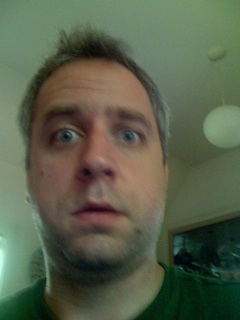 I nearly fainted, the world spun … A company of three, with some "license" … but wasn't "license," or licentiousness, at least, the very subject, the essence of the discourse of the humorous TV program which was now visiting me out my wasted childhood hours? And then, it hit me like a further lightning bolt: the "true theme" only emerges when Beethoven does the subject in the INVERSION … and isn't "inversion," sexually speaking, the sidesplitting eternal joke of Jack Ritter's presence in the apartment with the two buxom babes? How could even a great genius like Beethoven know what the Three's Company theme and subject matter would be, one hundred and fifty years before it was even a twinkle in the eye of a television producer? It was as if—and this seemed hard to believe—Beethoven had written the entire Sonata just to bring the theme of Three's Company into life …
What to do with such knowledge?  Awestruck. Bewildered. Confused. The hour: 11 PM. Further practicing of no avail. There seemed no option but to head to Dick's for a deluxe cheeseburger. I stood, as so often, under the fluorescent lamps, staring at listless skatepunks, and contemplating my newest plumbing of musical depths … I sucked cynically on my chocolate shake … I know they don't give Pulitzers for musicology, but it seemed possible. Anything was possible. I felt my iPhone in my pocket, caressed its rectangular smoothness warmly, thinking you and me, baby, we'll go far, we can be a contender …